January 10, 2012, seems like it was just yesterday.
On this day, Mark Davis made his first move as Raiders owner by introducing new general manager, Reggie McKenzie. After 30 months of deconstruction, the third-year GM has renovated Oakland's roster.
Right before Mark Davis gave the podium to his newest hire, he quoted his iconic father.
"The greatness of the Raiders is in its future. Reggie, the future is now."
In 2014, those words are loud and clear.
As training camp begins, scroll down and take a good look at this pie chart that illustrates how Reggie McKenzie has fashioned the Raiders 90-man roster.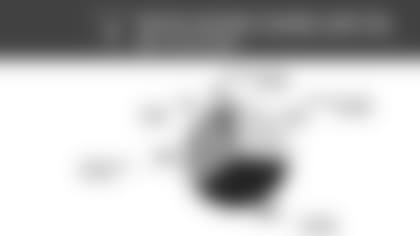 "Do we have enough draft picks? No, we don't, but we can find players in different ways. We are going to work the college free agent market." -Reggie McKenzie, January 10, 2012
McKenzie was a a 10th-round draft pick to the Los Angeles Raiders in 1985 and knows there are diamonds in the rough once the NFL Draft ends. There are 24 undrafted free agents on the current team with 13 undrafted rookies competing for a roster spot.
Just two and a half years ago, Rod Streateruploaded his own highlight video to get looks from NFL teams. In 2013, the former undrafted rookie was 112 yards away from breaking 1,000 receiving yards. The last Raider wideout to do that was Randy Moss in 2005.
ON THE RISE: MARQUETTE KING
Here is another player from Reggie's 2012 undrafted class. After succeeding All-Pro Shane Lecher in 2013, Marquette King led the league in yards per punt (48.9). In case you didn't already know, the self-proclaimed #KickSquad President is an athlete.
Reggie McKenzie has drafted 24 players since 2012 and 21 of those picks remain on the roster. Building the defense has been priority for McKenzie, choosing 14 defenders through the last three drafts.
How can Khalil Mack not be a headliner? Revisit the Twitter reaction to the fifth-overall pick becoming an Oakland Raider.
ON THE RISE: MILES BURRIS
The Raiders 2012 fourth-round pick started 15 games as a rookie but is one year removed from knee surgery.
"Mentally, that was one of the toughest things I've been through. One of the darkest years of my life, but that's where my faith came through so greatly, and just leaning on the Lord for everything."
Miles Burris is motivated and even earned first team reps at weak side linebacker by the second practice of mandatory mini-camp.
So far, 38 percent of this team is comprised of free agents, the largest segment of players on the roster. Finding players with a winning attitude has been a top priority for Reggie McKenzie, signing seven players with 10 combined Super Bowl rings through free agency.
Justin Tuck's resume is filled with experience and winning. The former Giant has started 90 games, racked up 60.5 sacks, and won two Super Bowls. Going into his tenth season, Tuck still looks like the two-time Pro Bowl defensive end he is.
The former San Jose State wide receiver is back in the Bay Area with a chip on his shoulder. James Jonesquietly led the NFL in touchdown receptions in 2012 and is the most seasoned wideout on the team.
Matt Schaubis the only current Raider acquired via trade. McKenzie got a bargain by giving away a sixth-round pick for a quarterback who has posted a 90 rating five seasons in a row up until 2013.
Time sure does fly. There are only 10 players from the 2011 roster left on this team and McKenzie has kept them in the locker room for a reason as seven of them were starters last season.
Marcel Reece has made it to two-straight Pro Bowls by using his versatility. The sixth-year vet averages 4.8 yards per carry and 10.7 yards per catch. This Raider captain is definitely in his prime.
ON THE RISE: TYVON BRANCH
Having Tyvon Branchhealthy in 2014 is crucial to the Raiders defense, especially against the run. When active, the 27-year-old has recorded over 100 tackles in three of his six seasons as a pro, leading the team in tackles twice (2010, 2011).