Here we GO! The full boat for the Las Vegas Raiders – all 12 picks – projected by NFL Network host and Raiders.com contributor Rhett Lewis.
Devon Witherspoon, CB, Illinois
For some time now, I've felt like CB would present the Raiders with the best opportunity to improve defensively from this slot in the first round. Depending on what Houston does at No. 2, we could see three QBs and three defenders off the board before the Raiders are on the clock, which would likely give the Silver and Black the chance to draft Witherspoon, the best CB in the class, in my opinion. If Houston passes on a QB then perhaps the Raiders could have the choice to take the third QB off the board, if it matches up to their rankings and value for the position. Cornerback just feels like the best intersection of value and need here for Vegas.
A potential starter right away, Cody Mauch gives the Raiders positional flexibility along the offensive line. He could start at right tackle or right guard and could eventually even line up at center, where he took some reps at the Senior Bowl this past January. A guy who loves ball and gives you a Maxx Crosby type mentality and passion for the game on the offensive side of the ball.
The Raiders get their potential QB of the future in the third round with this mock pick of Jaren Hall from BYU. There's an injury history to sort through here, but when Hall has been healthy, he's been productive. A career year in 2022 saw the Cougar QB throw for over 3,100 yards with 31 touchdowns and just six interceptions. Among those 31 touchdowns, 13 were scored on plays of more than 20+ yards, showing Hall's ability in the intermediate to deep pass game when necessary. He also has plenty of functional athleticism to create some plays outside of the pocket and get out of trouble when required. If not for playing through an injury at the Senior Bowl, we might be talking about Hall more prominently in this draft.
Round 3, Pick 100 (from KC via NYG)*
Gervon Dexter, Sr., IDL, Florida
Ahead of the Combine, I was watching UK QB Will Levis' performance vs. Florida and Gators DL Gervon Dexter Sr. kept showing up. He's a player who can collapse the pocket, find the football and even registered an interception off a deflection after he used a UK offensive lineman as a rag doll to get free. You combine his physical frame, strength and speed at nearly 6-foot-6, 310 pounds – boasting a 4.88 40-yard dash time – along with his motor and awareness and there's a lot to like with this interior defensive lineman.
Zach Harrison, EDGE, Ohio State
To effectively judge Zach Harrison's game-breaking ability, just go watch the last couple series of Ohio State's anxiety-filled win over Maryland this last year. Harrison beat Maryland LT Jaelyn Duncan (who will likely be drafted ahead of Harrison) on consecutive possessions to sack Taulia Tagovailoa and preserve a Buckeye victory. Harrison's skill set isn't in line with the likes of the Bosas or a Chase Young, but a big physical edge player with plenty of productivity potential in the NFL.
Named after the Boyz II Men member, the selection of OU's Morris may help prevent the Raiders O-line from reaching "The End of the Road"(😜) before season's end. A quality depth piece in the near term, Morris, who earned an invite to the Senior Bowl this year, does have the ability to challenge for a starting spot in the future.
Round 5, Pick 144 (from ATL)
Ivan Pace Jr., LB, Cincinnati
Best blitzing linebacker in this class in the fifth round? Sign me up for the selection of Ivan Pace from Cincinnati. Transferring in from Miami of Ohio before the 2022 season, Pace proved he belonged playing against a higher level of competition and earned the AAC Defensive Player of the Year award for his production which included 136 tackles to go along with nine sacks and 20.5 tackles for loss. You don't find off-the-ball linebackers with that type of production in the pass rush game all that often. Pace is a fantastic value in the fifth round.
Ramirez jumped onto my radar while playing inside Allegiant Stadium at the Shrine Bowl this year. As the play-by-play announcer for NFL Network's broadcast of that game, I found myself calling Ramirez's name often and in some big spots, with four tackles and a strip sack that gave his squad great field position after the turnover. Watching him play live made it easier to see why he turned in the fastest 20-yard shuttle and 3-cone drill of all defensive lineman at the Combine. The EMU edge rusher really came into his own in his final collegiate season with 12 sacks, doubling his production from the season before in that category.
Round 6, Pick 204 (from DAL)
Tre Tucker, WR, Cincinnati
The late Al Davis would love this pick, as speed and strength encapsulate Tre Tucker's game. The Cincinnati wideout turned in a 4.37 40-yard dash time at the Bearcat Pro Day while Bruce Feldman's College Football Freaks List at "The Athletic" noted his ability to squat 600 pounds and complete 16 reps of 225 pounds on the bench press. Tucker has the ability to contribute as a wideout and special teamer, especially in the kick return game where he notched two touchdowns during his collegiate career.
Evan Hull, RB, Northwestern
When you get to this point in the draft, you're looking for traits that will translate to the pro game allowing players to develop down the road and guys who could contribute on special teams. Evan Hull has all of it. Hull feels like a combination of current Raiders RB's Brandon Bolden and Ameer Abdullah, showcasing terrific ability in the pass game catching screens with the potential to be a core-4 special teamer.
Round 7, Pick 220 (from ARI)
Speed is not an issue for Miami's Will Mallory, who posted the fastest 40-yard dash time (4.54) of the TE group at the Combine. Mallory is more of a jumbo receiver at this point in his evolution at the position and you'd be banking on his ability to eventually help replace some of the downfield threat the Raiders had with Darren Waller.
Round 7, Pick 231 (from NE)
Lance Boykin, CB, Coastal Carolina
If you want to find a big framed physical corner before this draft is over, look no further than Coastal Carolina's Lance Boykin who, at 6-foot-2 and over 200 pounds, could develop into a player that could be an asset versus big-bodied wide receivers. He showed that potential plus some solid ball skills at the Shrine Bowl in Vegas but needs to improve his fluidity and change of direction skills.
The 2023 NFL Draft kicks off on Thursday, April 27 at 5 p.m. PT in Kansas City, Missouri. Click here for Raiders.com's draft preview.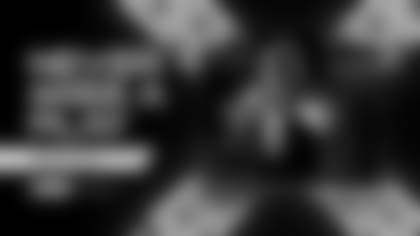 Raiders + Allegiant Stadium App
Download our official Raiders + Allegiant Stadium app for team & stadium modes, content, alerts and manage your tickets.