Oakland Raiders Head Coach Dennis Allen chats with the guests from the SWARCO Raiders. Photo by Tony Gonzales.
By Kevin Herron
SWARCO Raiders Linebackers Coach
Today I write you from Oakland, because training camp ended on Wednesday. Unfortunately. Anything that wasn't tied to something was loaded onto huge trucks and driven back to the facility in Alameda. The moving part was as well organized as the whole camp.
**I have learned a lot here during practices. Every minute of each practice is well planned. Nothing is left to chance. Nobody stands around. Here everybody is constantly moving, knowing exactly what he has to do when. That was really impressive.
Head coach Dennis Allen and his staff teach a lot of basics. They want to make sure the team does the little things right. But since I got here they also practice special teams a lot. Every day there were several drills during practice in which the team went through all possible kick, punt and return scenarios. I'm sure this had something to do with the upcoming opponent. As we all know the Chicago Bears have one of the most electrifying return guys in league history in Devin Hester.
I also was able to talk to linebackers coach Bob Sanders and pick his brain a bit. He possesses so much knowledge of the game and I'm glad he gave me some advice. I have to say that all coaches, players and the front office people are very attentive, friendly and helpful.
Now it's time to beat the Bears and show what the team has learned the last days. Go, Raiders!
Thanks for reading my blog,
Kevin
---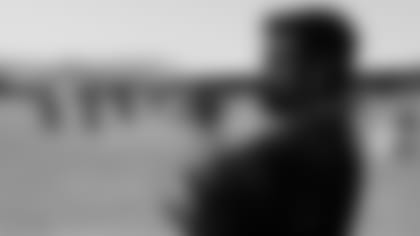 By Kevin Herron
SWARCO Raiders Linebackers Coach
My name is Kevin Herron. I'm the linebackers coach of the SWARCO Raiders, sister-team of The Oakland Raiders. For the sixth straight year the Raiders have invited us to join them during training camp. This year I was lucky enough to get picked to learn from the three-time Super Bowl champions.
To give you a bit more background on myself: I have an American and a German citizenship. My dad was in the Army. I moved to Germany when I was a teenager and have stayed there ever since. Football has always been an important part of my life, but I never imagined ending up in the NFL – even if only for a week.
We arrived in California on Saturday evening after an eleven hour flight that even had a two hour delay. Despite being tired and drained I had a hard time finding sleep. I was so excited. On Sunday we finally made our way up to Napa to training camp. The facilities are beautiful and the setting is gorgeous.
We checked in and then headed straight outside to watch our first practice. Since I have been to Florida State for the last five years to watch them practice I thought I knew what was coming, but I was wrong. There's a reason why the NFL is football's golden standard. The players are bigger, stronger and faster than in college. I was impressed to see the intensity during practice. You could tell that this is a business and we're getting closer to some tough business decisions. Everybody is playing for his job.
I'm looking forward to the next days and I'll make sure I let you know what happens at camp.
Thanks for reading my blog,
Kevin