For a total of 100 days, we'll take a look at the men who have played for the Raiders jersey number by jersey number. This series will highlight some of the greatest players in NFL history. In some cases, the player and jersey number are synonymous. In other cases, the jersey number represents sustained greatness at a particular position. Some players are superstitious about their jersey number. Whatever the case may be, jersey numbers are an important part of the fabric of professional football.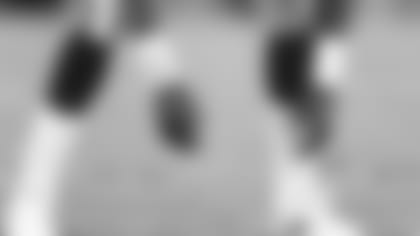 Jersey No. 22 is another number that has been worn by an eclectic group of group of running backs and defensive backs throughout Raiders history. Those who have worn it include a Hall of Famer and the current special teams ace.
Wayne Crow – P/RB/DB – 1960-61
Crow was the Raiders first punter. He played in 28 games and punted 139 times for 5,571 yards and averaged 40.1 yards per punt. In 1961, he set the team record for longest punt with a 77-yarder. That record stood until Shane Lechler boomed an 80-yard punt in 2011. As a running back in 1961, Crow carried the ball 119 times for 490 yards and 2 TDs and caught 17 passes for 105 yards. As a defensive back, he intercepted 4 passes in 1960. In 1961, he completed 6 of 10 pass attempts for 165 yards.
San Lorenzo, Calif.,-native Mel Montalbo appeared in two games during the 1962 season after playing college football at Utah State.
Guy played in 6 games in 1964 for the AFL's Raiders after spending 1963 with the NFL's New York Giants.
Larry Todd – RB – 1965-70
Todd played in 57 games for the Raiders and carried the ball 138 times for 625 yards and 5 TDs. He caught 51 passes for 522 yards and 2 TDs. He also returned 25 kickoffs for 584 yards.
Warren joined the Raiders in 1970 after two seasons with San Diego and four with Miami. He returned to the Raiders for 2 games in 1977 and wore No. 22. In all, he played in 57 games for the Raiders and picked off 7 passes and chalked up 198 return yards. He returned 2 of those INTs for scores.
Arthur Whittington – RB – 1978-81
Whittington played in 56 games with 20 starts and ran the ball 441 times for 1,577 yards and 13 TDs. He caught 84 passes for 764 yards and 2 TDs. He returned 74 kickoffs for 1,474 yards and 1 TD.
Mike Haynes – CB – 1983-89
Haynes (pictured) was acquired during the 1983 season in a trade with the New England Patriots. He played in 87 games with 72 starts and intercepted 18 passes for 295 yards and 1 TD. He was a member of the Raiders Super Bowl XVIII championship team and was inducted into the Pro Football Hall of Fame in 1997. Haynes is widely regarded as one of the greatest defensive backs to ever play the game.
Craig joined the Raiders for one season after 8 with the San Francisco 49ers. He played in 15 games with 13 starts and carried the ball 162 times for 590 yards and 1 TD. He also caught 17 passes for 136 yards. He finished his career with two years in Minnesota.
Harvey Williams – RB – 1994-98
Williams joined the Raiders n 1994 after 3 years with the Kansas City Chiefs. He played in 75 games with 40 starts and carried the ball 804 times for 3,094 yards and 18 TDs. He also caught 165 passes for 1,229 yards and 5 TDs.  His best season came in 1995 when he ran for 1,114 yards and 9 TDs.
Charles Mincy – DB – 1999
Mincy played the final year of a 9-year career with the Raiders. He played in 16 games with 6 starts and recorded 2 interceptions for 23 yards and 1 fumble recovery.
Terrance Shaw – DB – 2002-03
Shaw joined the Raiders after 5 years in San Diego, 1 in Miami and 1 in New England. He played in 32 games with 15 starts and recorded 2 interceptions and 1 fumble recovery. He finished his career with 1 season in Minnesota.
Hill joined the Raiders after 4 years with the Cardinals. He played in 16 games with 13 starts and recorded 1 interception. He went on to play for Miami and Denver.
Duane Starks – CB – 2006-07
Starks played in 3 games for the Raiders in 2006 and was released during the 2007 season. Prior to joining the Raiders he played for Baltimore, Arizona and New England.
Justin Miller – CB/KR – 2008-09
Miller split time between the Jets and the Raiders in both 2008 and 2009. As a Raider, he played in 8 games and returned 38 kickoffs for 900 yards and 2 TDs.
Russell played in 12 games with 4 starts and caught 12 passes for 96 yards. He also returned 18 kickoffs for 330 yards.
Walter McFadden – CB – 2010
Originally selected by the Raiders in the 5th round of the 2010 NFL Draft, McFadden played in 4 games for the Raiders.
Taiwan Jones – RB/CB/KR – 2011-present
Selected in the 4th round of the 2011 NFL Draft as a running back, Jones converted to cornerback in 2013. He has played in 40 games and has returned 36 kickoffs for 810 yards. In three seasons, Jones carried the ball 27 times for 117 yards and caught 6 passes for 91 yards. He led the Raiders in special teams tackles in 2013. He appeared in one game and suffered a season-ending injury. Jones was placed on Injured Reserve Sept. 11, 2014.