For a total of 100 days, we'll take a look at the men who have played for the Raiders jersey number by jersey number. This series will highlight some of the greatest players in NFL history. In some cases, the player and jersey number are synonymous. In other cases, the jersey number represents sustained greatness at a particular position. Some players are superstitious about their jersey number. Whatever the case may be, jersey numbers are an important part of the fabric of professional football.
No. 29 has been worn by 17 players in Raiders history including a Hall of Fame running back, a couple of hard-hitting safeties and a shutdown corner.
* *
| | |
| --- | --- |
| | |
| | CB Albert Lewis wore No. 29 from 1994-1998. |
| | |
John Harris – DB – 1960-61
Harris played in 28 games and recorded 2 interceptions for 55 yards, and returned 3 kickoffs for 38 yards.
White played in 7 games in 1962 and caught 6 passes for 101 yards and 1 TD.
After playing several seasons with the Baltimore Colts and Washington Redskins of the NFL, Sommer finished his career with the AFL's Raiders in 1963. He played in 4 games and carried the ball 5 times for 21 yards and caught 1 pass for 24 yards. He returned 4 punts for 44 yards and 5 kickoffs for 102 yards.
Howie Williams – CB – 1964-69
After playing for the 49ers and Packers, Williams joined the Raiders in 1964. He played in 66 games with 20 starts and recorded 14 interceptions for 240 yards and recovered 1 fumble.
Prout played in 2 games for the Raiders during the 1974 season and did not record any statistics.
Hubert Ginn – RB – 1976-78
Ginn played the last 3 years of his 9-year career with the Raiders. He played in 18 games and carried the ball 15 times for 59 yards and returned 4 kickoffs for 101 yards.
Smith was with the Raiders in 7 games for the Raiders during the 1984 season after starting the year with the Washington Redskins.
Tillmon appeared in 3 games with 1 start for the Raiders during the 1987 season.
Russell Carter – DB – 1988-89
Carter joined the Raiders after 4 years with the Jets. He appeared in 24 games with 12 starts and recorded 2 sacks and a fumble recovery. He also returned 1 kickoff for 14 yards.
Eric Dickerson – RB – 1992
Dickerson played in 16 games with 15 starts during his 1 season with the Raiders. He played most of his career with the St. Louis Rams. He gained 729 of his 13,259 career rushing yards on 187 carries and scored 2 TDs. He also caught 14 passes for 85 yards and 1 TD. He was inducted into the Pro Football Hall of Fame in 1999.
Patrick Bates – DB – 1993
Bates was selected in the first round of the 1993 NFL Draft. He wore No. 27 in his rookie season with the Raiders and switched to No. 24 in 1994. He also wore No. 29 at some point in 1994. In all, Bates played in 29 games with 9 starts and recorded 1 interception. He played one season with the Atlanta Falcons in 1996.
Albert Lewis – CB – 1994-98
Lewis joined the Raiders after 11 years with the Kansas City Chiefs. He played in 75 games with 60 starts and logged 4 interceptions for 74 yards and 1 TD.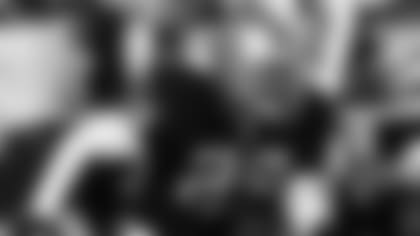 Turner (pictured at left) played for the Raiders from 1997-99 before his untimely death. He wore No. 42 in 1997 and '98. In all, he played in 32 games with 31 starts and recorded 8 interceptions for 196 yards and 1 TD. He also racked up 5 fumble recoveries with 99 return yards and a TD. His 94-yard INT return for a TD against Denver in 1998 is the 5th longest in team history.
Brock Williams – DB – 2004
Williams played in 2 games with the Raiders in 2004 after spending 2003 with the Chicago Bears.
Reggie Tongue – DB – 2005
Tongue played the last season of a 10-year career with the Raiders. He saw action in 4 games with 1 start.
Michael Bush – RB – 2007-11
The Raiders selected Bush in the 4th round of the 2007 NFL Draft. After sitting out his rookie season due to a broken leg suffered in college, Bush appeared in 61 games with 16 starts and gained 2,642 yards on 632 carries with 21 TDs. He also caught 91 passes for 879 yards and 1 TD. He went on to play for Chicago.
Brandian Ross – DB – 2012-present
Ross has appeared in 43 games in 3 seasons with the Raiders and has recorded 113 tackles, 2 interceptions, 2 sacks and 1 forced fumble. He played in 13 games in 2014 after re-joining the team after being claimed off waivers from the Miami Dolphins.