For a total of 100 days, we'll take a look at the men who have played for the Raiders jersey number by jersey number. This series will highlight some of the greatest players in NFL history. In some cases, the player and jersey number are synonymous. In other cases, the jersey number represents sustained greatness at a particular position. Some players are superstitious about their jersey number. Whatever the case may be, jersey numbers are an important part of the fabric of professional football.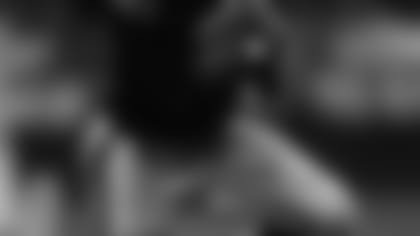 Twelve players have worn No. 41 in Raiders history including a couple of special teams standouts and a linebacker who played in many Raiders playoff victories.
John Roderick – WR – 1968
After two years with Miami, Roderick played in 11 games with the Raiders in 1968 and recorded 2fumble recoveries.
Selected in the 6th round of the 1970 NFL Draft by the Raiders, Wyatt played in 11 games and returned 25 punts for 231 yards and a touchdown and returned 13 kickoffs for 286 yards. He went on to play for Buffalo and Houston.
Phil Villapiano – LB – 1971-79
Selected by the Raiders in the 2nd round of the 1971 NFL Draft, Villapiano played in 118 games with 117 starts. He recorded 11 interceptions for 160 yards and 1 TD and recovered 17 fumbles. He was a key member of several playoff teams including the Raiders Super Bowl XI championship team. He made the game-sealing interception in the Sea of Hands game against Miami in the 1974 playoffs.
Fulton Walker – DB – 1985-86
Walker (pictured) joined the Raiders during the 1985 season after playing for Miami from 1981-85. He played in 27 games and returned 11 punts for 1,132 yards and 1 TD, and returned 44 kickoffs for 835 yards.
Napoleon McCallum – 1986, 1990-94
The Raiders selected McCallum in the 4th round of the 1986 NFL Draft out of the United States Naval Academy. He wore Nos. 34 (1986) and 41 (1990-94) in two stints with the Raiders. In all, he played in 74 games with 6 starts and gained 790 yards on 223 carries with 6 TDs. He caught 17 passes for 121 yards. His career was cut short by a devastating injury.
Foster appeared in three games with two starts and returned one kickoff for 12 yards.
David Greenwood – DB – 1988
After playing a year each for Tampa Bay and Green Bay, Greenwood appeared in 2 games for the Raiders in 1988.
Bobby Joe Edmunds – WR – 1989
Edmunds joined the Raiders after three years with Seattle and played in seven games in 1989. He returned 16 punts for 168 yards and 14 kickoffs for 271 yards. He went on to play one year with Tampa Bay.
Louis Riddick – DB – 1998
Riddick played for the Falcons and Browns before joining the Raiders. He played in 15 games with 3 starts and recovered one fumble. He is currently an analyst for ESPN.
Eric "Crazy" Johnson – DB/LB – 2000-03
Johnson played in 55 games with 2 starts and recorded 1 interception. The special teams ace returned a punt blocked by LB Tim Johnson for a touchdown in Super Bowl XXXVII.
Tonga played in 11 games with 3 starts and caught 3 passes for 18 yards and carried the ball once for 12 yards.
Jonathan Dowling - S - 2014-present
The Raiders selected Dowling in the 7th round of the 2014 NFL Draft. He appeared in 7 games and made 4 tackles.