For a total of 100 days, we'll take a look at the men who have played for the Raiders jersey number by jersey number. This series will highlight some of the greatest players in NFL history. In some cases, the player and jersey number are synonymous. In other cases, the jersey number represents sustained greatness at a particular position. Some players are superstitious about their jersey number. Whatever the case may be, jersey numbers are an important part of the fabric of professional football.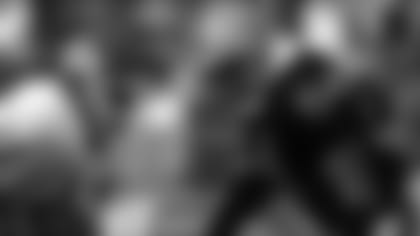 General Manager Reggie McKenzie played for the Raiders from 1985-88. AP Photo.
Fourteen players have worn No. 54 in Raiders history, including a 7th round draft steal and the team's current general manager. 
Terry Mendenhall – LB – 1971-72
Mendenhall played in 17 games for the Raiders and recovered one fumble. 
Mike Dennery – LB – 1974-75
The Raiders selected Dennery in the 13th round of the 1974 NFL Draft out of Southern Mississippi. He played in 28 games and recorded one safety. 
The Raiders selected Bonness is in the 3rd round of the 1976 NFL Draft. He appeared in 14 regular season games and was a member of the Raiders Super XI championship team. He went on to play three seasons with Tampa Bay. 
Originally drafted by the Saints, Watts played in two games for the Raiders in 1978. 
Greg Bracelin – LB – 1981
Bracelin joined the Raiders after a year with the Broncos. He played in 15 games for the Silver and Black and he went on to play for the Baltimore/Indianapolis Colts. 
Peterson joined the Raiders after two years with Dallas, one with Tampa Bay and three with Kansas City. He played in four games for the Raiders in 1982. 
Darryl Byrd – LB – 1983-84
Byrd played for the Raiders from 1983-84 and in 1987. He wore No. 54 from 1983-84 and No. 50 in '87. In all, he played in 35 games with three starts. 
Reggie McKenzie – LB – 1985-88
Current Raiders General Manager Reggie McKenzie wore the Silver and Black for four years. Selected in the 10th round of the 1985 NFL Draft out of Tennessee, McKenzie played in 58 games with 40 starts and recorded two interceptions for 35 yards and recovered one fumble. 
Paul Dufault – C/G – 1987
Dufault played in one game for the Raiders in 1987. 
Thomas Benson – LB – 1989-92
Benson joined the Raiders after two years with the Falcons, two with the Chargers and one with the Patriots. He played in 49 games with 46 starts. He recorded three sacks, three interceptions for 61 yards and two fumble recoveries. 
Greg Biekert – LB – 1993-01
The Raiders selected Biekert in the 7th round of the 1993 NFL Draft out of Colorado. He played in 144 games with 123 starts and recorded 15 sacks, three interceptions for 68 yards, nine forced fumbles, five fumble recoveries and 704 solo tackles. He finished his career with two years in Minnesota. 
Sam Williams – LB – 2003-10
The Raiders selected Williams in the 3rd round of the 2003 NFL Draft out of Fresno State. He played in 84 games with 24 starts and recorded one sack, one interception, forced one fumble, recovered two fumbles (returning one for a TD) and logged 87 solo tackles. He was a staple on special teams.
So'oto played in four games for the Raiders in 2012. He has also played for Green Bay, Washington and Arizona.
Marshall McFadden – LB – 2013
McFadden joined the Raiders after spending time with the Pittsburgh Steelers. He appeared in four games in 2013.
Bojay Filimoeatu - LB - 2014-present
Filimoeatu appeared in eight games for the Silver and Black, making six tackles during the 2014 season.