For a total of 100 days, we'll take a look at the men who have played for the Raiders jersey number by jersey number. This series will highlight some of the greatest players in NFL history. In some cases, the player and jersey number are synonymous. In other cases, the jersey number represents sustained greatness at a particular position. Some players are superstitious about their jersey number. Whatever the case may be, jersey numbers are an important part of the fabric of professional football.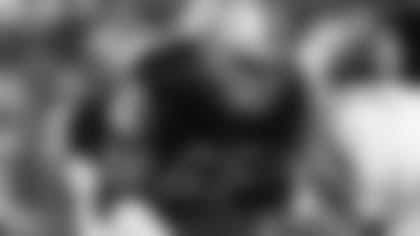 Kevin Gogan lines up against the Seattle Seahawks.
Ten players have worn jersey No. 66 in Raiders history, all offensive linemen.
Ramon Armstrong – T – 1960
Armstrong played in 14 games for the Raiders during the team's inaugural season in 1960.
Bishop joined the Raiders after a year with the Dallas Texans (Kansas City Chiefs) and played in 14 games. He went on to play six years with the Houston Oilers.
Steve Sylvester – OL – 1975-83
The Raiders selected Sylvester in the 10th round of the 1975 NFL Draft out of Notre Dame. He played in 106 regular season games with 31 starts and was a member of three Super Bowl championship teams – 1976, 1980 and 1983.
The Raiders acquired Bryant in 1984 after the former 1st round pick spent the better part of eight seasons with the Atlanta Falcons. He played in five games for the Raiders.
Steve Wright – T – 1987-93
Wright joined the Raiders after two years with the Cowboys and two years with the Colts. He played in 79 games with 48 starts.
Gogan joined the Raiders after seven seasons with the Cowboys. He played in 48 games with 48 starts and was named to the Pro Bowl in 1994. He went on to play for San Francisco, Miami and San Diego.
Curtis Whitley – C/G – 1997
Whitley joined the Raiders after three years with San Diego and two with Carolina. He played in 15 games with one start.
Langston Walker – G/T – 2002-06
The Raiders selected Walker in the 2nd round of the 2002 NFL Draft out of Cal. He played for the Raiders from 2002-06, the Buffalo Bills from 2007-08 and the Raiders from 2009-10. He wore No. 70 in his second stint in Oakland. In all, Walker played in 88 games with 50 starts.
Cooper Carlisle – G – 2007-12
Carlisle joined the Raiders after seven years with the Denver Broncos. He played in 95 games with 95 starts, missing only one game during his time in Oakland.
Gabe Jackson - G - 2014-present
Jackson was selected in the 3rd round of the 2014 NFL Draft after an impressive career at Mississippi State. During his rookie year, Jackson appeared in 13 games, making 12 starts for the Silver and Black.