For a total of 100 days, we'll take a look at the men who have played for the Raiders jersey number by jersey number. This series will highlight some of the greatest players in NFL history. In some cases, the player and jersey number are synonymous. In other cases, the jersey number represents sustained greatness at a particular position. Some players are superstitious about their jersey number. Whatever the case may be, jersey numbers are an important part of the fabric of professional football.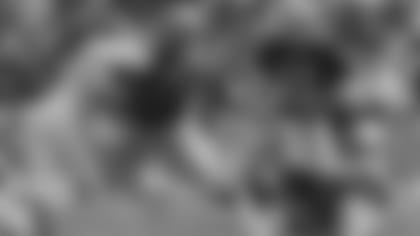 T Bruce Wilkerson blocks for QB Todd Marinovich (12), whose father Marv Marinovich also wore No. 68 for the Raiders. AP Photo.
Nine players have worn No. 68 in Raiders history, including the father of a future Raiders first round draft pick.
Dittrich joined the Raiders after a year with the Chicago Cardinals in 1956 and a year with the Green Bay Packers in 1959. He played in 11 games for the Raiders during the franchise's inaugural season. He went to play one season in Buffalo.
Marv Marinovich – G – 1965
The Raiders selected Marinovich in the 28th round of the 1962 AFL Draft out of USC. He saw action in one game in 1965. The Raiders selected his son Todd, a quarterback out of USC, in the first round of the 1991 NFL Draft. Marv also served as the team's strength and conditioning coach.
Pyle joined the Raiders after four years with the Baltimore Colts and one with the Minnesota Vikings. He played in 13 games with the Raiders in 1966.
Bell played in one game for the Raiders during the 1979 campaign.
Johnny Robinson – DT/DE – 1981-83
The Raiders selected Robinson in the 4th round of the 1981 NFL Draft out of Louisiana Tech. He played in 27 games with the 16 starts, was credited with one safety and he recovered one fumble.
Bruce Wilkerson – G/T – 1987-94
The Raiders selected Wilkerson in the 2nd round of the 1987 NFL Draft out of Tennessee. He played in 107 games with 89 starts.
Rick Cunningham – T – 1996-98
Cunningham joined the Raiders after one year with the Colts, three years with the Cardinals and one year with the Vikings.  He played in 32 games and caught a three-yard pass for a TD.
Graham joined the Raiders after four years with the Cardinals. He played in 14 games for the Silver and Black and he went on to play one year with the Tennessee Titans.
Jared Veldheer – T – 2010-13
The Raiders selected Veldheer in the 3rd round of the 2010 NFL Draft out of Hillsdale. He played in 53 games with 48 starts.