For a total of 100 days, we'll take a look at the men who have played for the Raiders jersey number by jersey number. This series will highlight some of the greatest players in NFL history. In some cases, the player and jersey number are synonymous. In other cases, the jersey number represents sustained greatness at a particular position. Some players are superstitious about their jersey number. Whatever the case may be, jersey numbers are an important part of the fabric of professional football.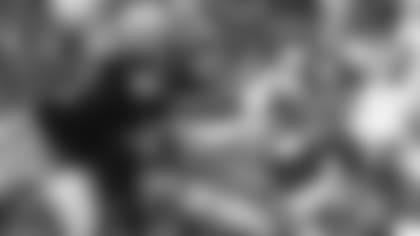 DE Greg Townsend is the Raiders all-time sack leader.
Seven players have worn No. 93 in Raiders history, including the all-time sack leader for the Silver and Black.
Greg Townsend – DE – 1983-93, 1997
The Raiders selected Townsend in the 4th round of the 1983 NFL Draft. He played in 174 regular season games with 90 starts in two stints with the Raiders wrapped around a year with the Eagles. Townsend recorded 107.5 sacks, three interceptions for 117 yards and one touchdown, forced 13 fumbles, and recovered seven fumbles, three of which he returned for touchdowns. He was also credited with two safeties. He was a key member of the Raiders Super Bowl XVIII championship team as a rookie. Townsend was selected for two Pro Bowls. Since the sack became an official statistic in 1982, Townsend leads all Raiders in this category.
Jerry Ball – DT – 1994-96
Ball joined the Raiders after six years with Detroit and one with Cleveland. He played in 47 games with 28 starts and recorded nine sacks, one interception for 66 yards and a touchdown, forced one fumble and recovered three fumbles. He went on to play for Minnesota and a second tour of duty with Cleveland.
James Harris – DE – 1998-99
Harris joined the Raiders after three years with the Vikings and one with the Rams. He played in and started 32 games and recorded 3.5 sacks, forced two fumbles and recovered one fumble.
Trace Armstrong – DE – 2001-03
Armstrong joined the Raiders after six years each with Chicago and Miami. He played in 28 games with 15 starts and logged 7.5 sacks, including his 100th career QB takedown. He also intercepted a pass and recovered a fumble as a Raider.
Tommy Kelly – DT – 2004-12
An undrafted free agent out of Mississippi State, Kelly played in 129 games with 117 starts and recorded 34.5 sacks, one interception, 10 forced fumbles and three fumble recoveries. He is currently a member of the New England Patriots.
Hunter joined the Raiders after three years in Green Bay, one with Detroit and three with Denver. He played in 13 games with 10 starts last season and recorded three sacks, one forced fumble and one fumble recovery. He is currently an unrestricted free agent.
Ricky Lumpkin - DT - 2014-present
Lumpkin joined the Silver and Black in 2013, but wore No. 77. He made the switch to No. 93 in 2014, where he appeared in five games for the Raiders.