For a total of 100 days, we'll take a look at the men who have played for the Raiders jersey number by jersey number. This series will highlight some of the greatest players in NFL history. In some cases, the player and jersey number are synonymous. In other cases, the jersey number represents sustained greatness at a particular position. Some players are superstitious about their jersey number. Whatever the case may be, jersey numbers are an important part of the fabric of professional football.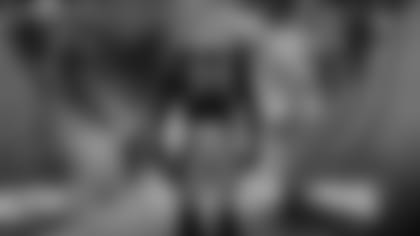 Kevin Burnett ready to take the field at O.co Coliseum. Photo by Tony Gonzales.
Fifteen players have worn jersey No. 94 in Raiders history, including several defensive tackles and linebackers.
Franks joined the Raiders after five years with Cleveland. He played in seven games with one start for the Raiders before the New York Jets acquired him during the 1986 season.
Goltz played in one game for the Raiders in 1987.
Costello joined the Raiders after three years with Atlanta. He played in two games.
Anthony Smith – DE – 1991-97
The Raiders selected Smith in the 1st round of the 1990 NFL Draft out of Arizona. He played in 98 games with 50 starts and recorded 57.5 sacks, 11 forced fumbles and seven fumble recoveries, including one returned for a touchdown. Smith was also credited with a safety.
Tony Bryant – DE – 1999-02
The Raiders selected Bryant in the 2nd round of the 1999 NFL Draft out of Florida State. He played in 50 games with 40 starts and chalked up 17.5 sacks, five forced fumbles, and two fumble recoveries. He went on to play two years with the Saints.
Dana Stubblefield – DT – 2003
Stubblefield joined the Raiders after two stints with the 49ers totaling 10 years wrapped around three years with the Redskins. He played in eight games with six starts and recovered one fumble.
Akbar Gbaja-Biamila – DE – 2004
An undrafted free agent out of San Diego State, AGB wore No. 98 in 2003 and No. 94 in 2004. He played in 31 games and recorded two sacks. He went on to play for San Diego and Miami.
Kevin Huntley – DE – 2006
An undrafted free agent out of Kansas State, Huntley played in six games and recorded 2.5 sacks and a fumble recovery.
Alston joined the Raiders after a year in St. Louis. He wore No. 94 in 2007, and No. 55 from 2008-09. He played in 36 total games with eight starts, forced two fumbles and recorded 32 solo tackles. He carried the ball once for 22 yards on a fake punt in 2008.
Robert Thomas – LB – 2008
Thomas joined the Raiders after three years in St. Louis and one in Green Bay. He played for the Raiders from 2006-08, and wore No. 55 from 2006-07 and No. 94 in 2008. In all, he played in 32 games with 11 starts and forced three fumbles, recovered one fumble and logged 79 solo tackles.
William Joseph – DT – 2009**
Joseph joined the Raiders after four years with the Giants. He wore No. 96 in 2008 and No. 94 in 2009. In all, he played in 14 games for the Raiders.
Jarvis Moss – DE – 2010-11
Moss joined the Raiders after 4 seasons with Denver. He played in 19 games with one start and recorded 2.5 sacks.
Alford joined the Raiders after two seasons with the Giants and played in four games for the Silver and Black.
Kevin Burnett – LB – 2013
Burnett joined the Raiders after four years with Dallas, two with San Diego and two with Miami. He played in and started 16 last season and recorded 2.5 sacks, one interception and one fumble recovery.
Antonio Smith - DT - 2014
Smith donned the Silver and Black for one season, starting all 16 games and totaling 3.0 sacks in 2014.