For a total of 100 days, we'll take a look at the men who have played for the Raiders jersey number by jersey number. This series will highlight some of the greatest players in NFL history. In some cases, the player and jersey number are synonymous. In other cases, the jersey number represents sustained greatness at a particular position. Some players are superstitious about their jersey number. Whatever the case may be, jersey numbers are an important part of the fabric of professional football.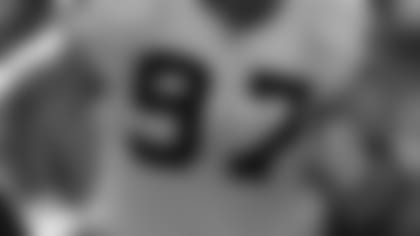 Ten players have worn jersey No. 97 in Raiders history, including a defensive tackle that helped solidify the defense during a Super Bowl run.
Rick Ackerman – DT – 1984
The Raiders acquired Ackerman after he played 2 seasons with the Chargers. He played in a total of nine games with two starts and recorded in two sacks. He wore No. 60 in 1987 after missing 1985-86.
Grimes played in two games for the Raiders in 1987.
Mraz joined the Raiders after spending a year with the Falcons in 1987. He played in 11 games and recorded .5 sacks.
Burton joined the Raiders after playing for the Cowboys and the Cardinals. He played in five games for the Raiders in 1990.
Willie Broughton – DT – 1992-93
Broughton joined the Raiders after two years with Colts and two years with the Cowboys. He played in 31 games with eight starts and recorded two sacks.
Russell Maryland – DT – 1996
Maryland joined the Raiders in 1996 after five years with the Dallas Cowboys. He wore No. 97 in 1996 and switched to No. 67 in 1997. In all, he played in 63 games with 63 starts and recorded 10 sacks, one interception, two forced fumbles, and one fumble recovery. He went on to play one year in Green Bay.
John Parrella – DT – 2002-04
Parrella (pictured) joined the Raiders after a year in Buffalo and eight years with San Diego. He played in 37 games with 20 starts and recorded one sack. He started at defensive tackle in Super Bowl XXXVII.
Greyson Gunheim – DE – 2008
An undrafted free agent out of Washington, Gunheim played in three games and recorded one sack.
Carter joined the Raiders after five years with San Francisco, five with Washington and two with New England. He played in 12 games and recorded 2.5 sacks and forced a fumble. Carter returned to New England in 2013.
Muir joined the Raiders after a season with Green Bay, four with Indianapolis and one with the New York Jets. He played in 10 games with one start and recorded one sack.