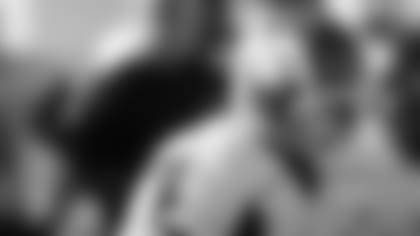 WR Jacoby Ford participates in the 2010 Senior Bowl.
AP Photo.
On Saturday, January 29, 2011, the best senior collegiate football players from around the country will face off in the Under Armour Senior Bowl in Mobile, Ala. The top 2011 NFL draft prospects will play on teams representing the North, coached by the coaching staff of the
Cincinnati Bengals
, and the South, coached by the coaching staff of the
Buffalo Bills
.
According to the Senior Bowl web site, a total of 4,465 players have participated in the contest since the first game in 1950. The participants include 30 Pro Football Hall of Famers as well as many of the NFL's biggest current stars.
The Senior Bowl is considered the premier pre-draft event. In 2010, "84 players off of the 2010 Senior Bowl rosters were selected in the 75th annual NFL Draft," according to Senior Bowl Public Relations Director Kevin McDermond. "That's a number that represents 33 percent of all players drafted. A total of 10 players from the 2010 Under Armour Senior Bowl rosters were selected in the first round of the NFL Draft, marking the ninth straight year that the Senior Bowl has produced 10 or more first round selections. Since 1999, the Senior Bowl has had 132 first round draft choices and a total of 1,047 draftees in all."
Under Armour Senior Bowl festivities started on Sunday, January 23, 2011, with the arrival of the players in Mobile. On Monday, players participated in the National Scouting Weigh-In and continued with their first practice session of the week. The North and the South teams will practice throughout the week with their coaching staffs in preparation for the show down.
The 2011 Under Armour Senior Bowl is scheduled for Saturday, January 29th at 1:00 p.m. PT on the NFL Network.