FB Marcel Reece, who just played in his second Pro Bowl, will be honored at the Commitment to Excellence Award Dinner in March. Photo by Tony Gonzales.
We are quickly turning our attention to the 2014 campaign. The offseason is already shaping up to be busy and exciting.
The Oakland Raiders 2014 opponents have been determined and announced.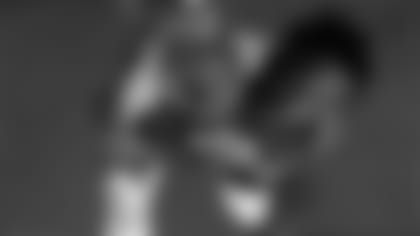 2014 NFL Scouting Combine
Each February, hundreds of the very best college football players are invited to the NFL Scouting Combine at Lucas Oil Stadium in Indianapolis, Ind., where executives, coaches, scouts and doctors from all 32 NFL teams conduct an intense, four-day job interview in advance of the NFL Draft. This year's Combine is scheduled for February 19-25. Check out the Combine Preview.
Commitment to Excellence Award Presentation Dinner
On Saturday, March 8, 2014, the Steering Committee for the Booster Clubs of the Oakland Raiders will host the 12th Annual Commitment to Excellence Award Presentation Dinner at the Hilton - Oakland Airport, honoring this year's recipient, FB Marcel Reece. Call 650.428.0810 for more information.
Free Agency and Trading Period
The signing period for unrestricted free agents and the trading period begin March 11.
10th Annual Raiders/Biletnikoff Hall of Fame Golf Classic
Pro Football Hall of Fame wide receiver Fred Biletnikoff and the Oakland Raiders will host the 10th Annual Hall of Fame Golf Classic in memory of Fred's daughter Tracey to support many causes throughout Northern California. The golf tournament is set for Monday, April 28, 2014, and will be held at Ruby Hill Golf Club in Pleasanton, Calif.
Off-Season Workout Program
The Raiders 2014 off-season strength and conditioning program will begin April 21 as the team convenes for training at the Raiders Alameda, Calif., facility.
The 2014 NFL game schedule, including dates, times, venues and television coverage will be announced by the National Football League sometime during the month of April. Preseason opponents will be revealed in late March/early April. Last year, preseason opponents were announced April 4, with the regular season schedule announcement coming on April 18.
The 2014 NFL Draft is scheduled for May 8-10 at Radio City Music Hall in New York City. More than 250 collegiate prospects will begin their professional football careers as a selection in the seven-round Draft. The first round of the 2014 NFL Draft is set for Thursday, May 8, with the second and third rounds on Friday, May 9, followed by Rounds 4-7 Saturday, May 10. Visit Raiders.com Draft Central, presented by State Farm.
Mini-Camps and Organized Team Activities
The Raiders historically have held mini-camps and Organized Team Activities at the team's Alameda facility during the months of May and June. Dates and times to be announced. We'll have complete coverage of OTAs and mini-camps right here on Raiders.com.
The Raiders typically report to Training Camp at their Napa Valley Training Complex in late July. Teams are allowed to open training camp 15 days prior to their first preseason game.
Be sure to check the Raiders.com Events Calendar for more events and important dates including Raider Nation On Location events.