LAS VEGAS - The Desert Ford Dealers have announced their founding partnership with Allegiant Stadium and the Raiders to become the Official Vehicle of Raider Nation when the Silver and Black debut in Las Vegas in 2020. There are five Ford dealerships in Las Vegas: Ford Country, Friendly Ford, Gaudin Ford, Rush Truck Center, and Team Ford.
The partnership was announced at a news conference on November 6 at Allegiant Stadium. Raiders President Marc Badain and team executives were on-hand to welcome Ford to the Raiders team.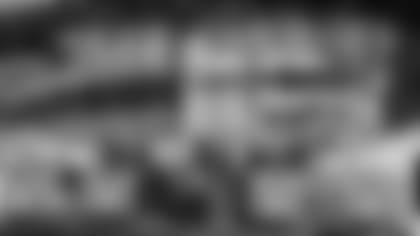 "The Raiders are proud to welcome the Las Vegas Ford dealers as the newest Founding Partner of Allegiant Stadium," said Raiders President Marc Badain. "We are excited to add another world-wide brand to the Raider family and for the annual activation and tailgating experiences this partnership will provide to our fans."
As the official vehicle of the Raider Nation and Founding Partner of Allegiant Stadium, Ford will have a dynamic presence throughout the stadium year-round which includes pregame tailgate activations and naming rights on the north gate entry.
"Ford has a long-standing relationship with the National Football League and we are thrilled to continue that partnership with the Raiders as they make Las Vegas their home," said Gary Ackerman of Gaudin Ford. "As the official vehicle of the Raider Nation, we are proud that members of the team and executive staff will take to the streets of Las Vegas in a Ford vehicle."
Legends Global Partnerships represented the Raiders to secure the Founding Partnership with Ford as a part of their duties as the stadium's official premium ticketing and sponsorships agency.