Two years ago, after finishing up his college career at Temple, WR Rod Streater didn't hear his name called during draft weekend. However, the Burlington, N.J., native was determined to not give up on his NFL dream and eventually signed with the Oakland Raiders as an undrafted free agent.
Fast forward to 2014 and Streater has two NFL seasons under his belt, and has become a reliable asset for the team, leading the Raiders with 60 catches and 888 receiving yards in 2013.
Now, as the team progresses through its training camp in Napa, Mike Davis and Seth Roberts, both receivers who went undrafted this year, hope to follow in his footsteps.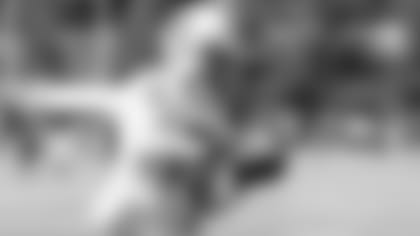 WR Mike Davis. Photo by Tony Gonzales
"They've been improving," said Streater. "From rookie minicamp to OTAs [organized team activities], until now, they're really improving. I feel like they're learning plays, they're out there trying to compete, and just watching tape, they're playing way faster. I'm proud of them."
After wrapping up his career as a Texas Longhorn, Davis, like Roberts and Streater before him, went undrafted but eventually signed with the Raiders in May. He now enters his first training camp with a sense of determination and a chip on his shoulder that he's carried with him since his younger days. 
"Even if I were drafted, I'd still have a chip on my shoulder," Davis said. "That's the kind of player I am, and the kind of person I am, ever since I've been little."
His teammate and fellow receiver Roberts shares his sentiment of entering an NFL training camp with something to prove to all the teams that passed on him in the draft.
"Definitely I do," he said when asked if he enters camp with a chip on his shoulder. "I just try to have the strongest mindset every day to come out here and work and compete, and keep pushing myself and have it stay in my mind that I need to just take it day by day."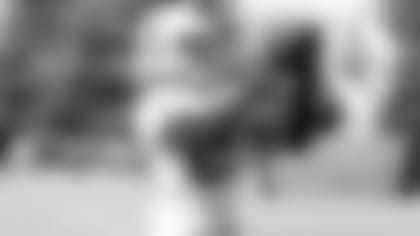 WR Seth Roberts. Photo by Tony Gonzales
In addition to watching the way Streater performs on the field, the two rookie wideouts have been able to use him as a resource for any questions they have about their new fulltime jobs.
"He's a great resource," Roberts said of Streater. "Rod is a great guy. I can go up to him and ask him about anything and he'll help me out. I really look up to him because I see myself as a young Rod Streater and, when I work, that's who I compare myself to."
Davis told a similar tale from when he first was able to meet and spend time with Streater. "He just said to get in the playbook and learn as many positions as you can," Roberts continued, "Because the more you know of it [the playbook], the faster you'll probably play. Just do things right and be a student of the game."
Streater has come a long way since not receiving a phone call on draft day, but he still uses his experience to support and encourage other players that find themselves in that position.
"To be able to share my experience with other undrafted guys, I think that's what it's all about," he said. "I'm still working hard and I know that there are guys behind me still pushing me to continue to keep my job. Just to be able to give back to those guys and give them advice is great."
The Raiders were able to find one undrafted gem in Streater in 2012 and both Davis and Roberts are hopeful that they can be the next in line for that distinction.