The Oakland Raiders – FB Marcel Reece, WR Rod Streater, CB Taiwan Jones, P Marquette King and LS Jon Condo  – participated in the first ever We Day California, celebrating youth's commitment to community service on a local and global scale. A product of the Free the Children organization, We Day is an event that requires students to earn a ticket through participation in one local initiative and one global initiative to help make the world a better place. These actions include raising money to build schools around the world, provide clean drinking water, collecting food for local communities, and more.
"We believe that through service, students will develop the skills to succeed for the rest of their lives," said Free the Children co-founder Craig Kielburger.
We Day events have occurred in cities across Canada, in Seattle, and in the United Kingdom. We Day at Oracle Arena was the first in the state of California. "So 16,000 students are in attendance. They come from 420 schools today," explained Kielburger. "[They are from] 127 school districts, so 40 percent of those students are South-Cal and 60 percent North-Cal that are with us."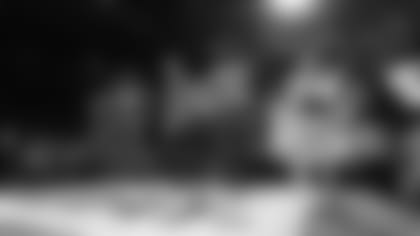 The five Raiders and one 49er fire up the students at We Day California.Photo by Tony Gonzales
The event brought together entertainers, athletes, philanthropists and business owners, who took the time to thank the students in attendance for their hard work in community service. Award-winning actor Martin Sheen was one of those celebrities. "I've been an actor all my life, in fact I have no conscious memory of ever not being an actor, but while acting is what I do for a living, activism is what I do to stay alive," Sheen told the students.
Sheen expressed his gratitude to those in attendance for the actions they are taking to change the world. "By your presence here today, you are not typical or average young people who see things and ask, 'why?' You are dreaming things that never were and saying, 'why not?'" he told the students.
Both Sheen and Kielburger hope to continue to empower youth to be active global citizens and ultimately make it cool to give back. "We want to reward young people for doing good," said Kielburger. "So often young people feel that the problems are so big, challenges so overwhelming - what can I do? And so we wanted to create We Day as that moment where every young person feels empowered and they know they can make a difference. The Super Bowl has the best of sports, the Grammys the best of music, why shouldn't we have an event that fills stadiums with the best in service?"
| | |
| --- | --- |
| | |
| | The Raiders take a selfie with NBA legend Magic Johnson. Photo by Tony Gonzales |
| | |
Part of what makes We Day so "cool" is the type of talent that takes the stage to address the students, including Oakland Raiders players. "It's amazing. It's fun for us. We're not out here playing football; we're out here as men and we're inspired by these kids," said Reece. "It means a lot to us. Today is not just about giving back but rewarding them for what they've done."
When the Raiders took the stage during We Day, the crowd cheered loudly and was motivated by the presence of their local heroes. "Here's what I love the most is that we're here in Oakland where we, and the local young people here, cheer on their sports team and they fill stadiums and they get excited and they cheer them on as role models and as heroes," said Kielburger. "The part that I love is we got the team now looking out at the students, looking out at their fans, and cheering them on for service. For [the Raiders] to look out on that stage and cheer on young people to say they are heroes to the players because these kids are making a difference, that's inspiring and that's empowering. That's something the young people in the audience will remember for the rest of their lives."
The players were moved by the entire We Day experience. "It was an honor to be on stage at We Day," said Streater. "I take pride in giving back to the community. To see so many people there who have given back to the community too is amazing."
The Raiders players were able to enjoy more than just their time on stage, getting the opportunity to meet Sheen, actor Seth Rogen, and NBA legend Magic Johnson. "I don't think the guys know; I'm a big Raider fan," said Johnson. "I used to have season tickets. So Al Davis was a great friend, great man. It's nice that all of us are getting involved, giving back. When you think about Free the Children, We Day, this is what it's all about. These kids are really happy the Raiders are here, that I'm a part of it, and it's really great."
Johnson is a We Day co-chair and has been active in helping motivate, empower and inspire students.
Martin Luther King III, the eldest son of Dr. Martin Luther King Jr., was one of the first speakers to take the stage. "It only takes a few good women and men to bring about change," said King.
King challenged the students to decide how they will live their lives. "My father used to say that in life you must decide whether you want to be a thermometer or a thermostat," he said. "See, a thermometer is a great device, but all it does is record temperature. There's another device called a thermostat and it regulates the temperature. And what I'm saying to you is in life, you must decide if you're going to be like a thermometer or a thermostat. Whether you're going to record what happens or whether you're going to be part of regulating what happens in your life."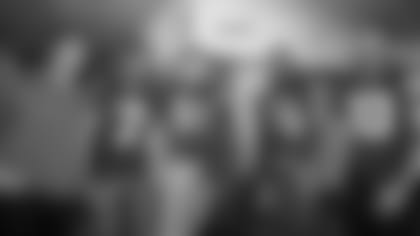 The guys pose for a photo with actor Martin Sheen. Photo by Tony Gonzales
Bringing the students together and then continuing to motivate them by inviting their heroes and inspirational speakers onto the stage propels the youth to do even more in their communities. "I think it's like watering a plant, a seed has fallen on fertile ground," said Sheen. "They're going to take it back to their homes, their communities, their schools, their churches, wherever that seed will grow. We're hurling these children into the future and saying it belongs to you. Whatever happens is yours now."
Sheen explained how We Day is changing the way we view peer pressure. It doesn't have to be about negativity anymore; peer pressure can be about changing the world for the better. "They step outside of their peer group and they do something that almost isolates them until the peer group realizes, 'hey, I want to be like him; I want to be like her,'" said Sheen. "And that's what's filling this stadium today are kids that have been inspired by each other. That's really what the inspiration comes from and they see something and they say, 'I want to be like him or her.' That becomes the new peer pressure is they get into a socially active consciousness and they become themselves; they evolve…But remember this above all, 'one heart with courage is a majority.'"
We Day California is an event that shows the students that they are not alone in their desire to make the world a better place. The Raiders wanted to show their support for the great work students from all over the state of California are doing to give back. "We love the fact that the team has gotten so involved," said Kielburger.
"We feel like it's a responsibility for us," said Reece. "It's an honor for us to go out and give back. It's not work; it's fun for us. We go out there and try to put smiles on kids' faces as much as possible."
The thousands of people participating in Free the Children and We Day consistently show a Commitment to Community, locally and globally, and the Silver and Black are on board to continue to inspire and motivate young people.
---
*An international charityand educational partner, Free The Children believes in a world where all young people are free to achieve their fullest potential as agents of change. We work to empoweryouth to remove barriers that prevent them from being active local and global citizens. *