That's how long each prospect and NFL team have to make an impression on each other during the interview process at the NFL Scouting Combine.
So how do the Raiders approach these interviews in a short time frame?
According to General Manager Dave Ziegler, it's about having a separate strategic plan for each interview based on the large amount of information on the player collected by scouts throughout the year.
"For a lot of guys, you end up with a focus on what you want to learn about that player and then, what you can learn about that player within those 18 minutes," he told Raiders.com.
"Ours isn't necessarily a cookie-cutter approach. We'll use that time to identify two things we want to know, knowing we have other opportunities too. Whether it's at a pro day, a 30 visit, a private visit, this isn't the only time that we ever get to talk to these players."
Throughout the week, teams are allowed to meet informally with any of the prospects – usually in a more casual setting. However, when it comes to formal interviews inside suites at Lucas Oil Stadium, clubs are allowed to talk with only 45 prospects of their choosing out of the 319 players in attendance, with each one kept strictly within the 18-minute time frame.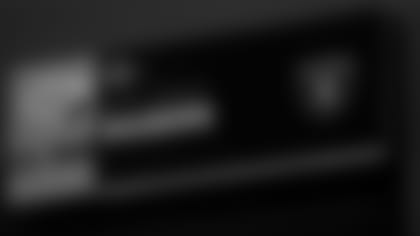 For the Raiders, prospects are ushered into a room containing Ziegler, Head Coach Josh McDaniels, Brandon Yeargan (director of college scouting), Shaun Herock (senior personnel advisor) and a rotating crew of the Raiders scouting and coaching staff. In total, the team spends 810 minutes of the week-long league event formally speaking with potential future NFL players.
"It's an interesting environment. You're front and center," Ziegler said of how it could be intimidating for the young prospects. "All eyes are on you."
The Silver and Black group's questions range from breaking down film to assessing football IQ to asking personal background questions. Essentially, this is a first job interview for these 45 candidates.
"You can get a sense of what their overall level of maturity is for the process and who they are as people," Ziegler said of what can make a player stand out. "Some players, you get to see that they've had an element of self-reflection in their life. I always think for a 21, 22-year-old kid to have an understanding and be self-reflective, and then the confidence to be able to voice that is an interesting trait.
"And then their level of football intelligence. There's some people that really stand out. Their overall knowledge of a complete offensive system or a complete defensive system rather than maybe just the knowledge of their position.
Ziegler is prepping for his second draft as general manager, but has been to a myriad of Combines since he first began his pro scouting career back in 2010. One thing that hasn't changed for him is how much he enjoys the interview portion, as it's a chance to get a first impression and a face-to-face connection.
"I love it. I think it's super valuable," the GM said. "You can't overweigh it because it's one time and it is a young adult that is in an intimidating situation, so I think you have to have a degree of understanding that. But it's unique to see someone's body language, see how they carry themselves, their self-confidence. It's little spurts of that, but that's what this process is.
"It's a puzzle and this is one small piece of the puzzle that you get to put on that player's profile."