For a total of 100 days, we'll take a look at the men who have played for the Raiders jersey number by jersey number. This series will highlight some of the greatest players in NFL history. In some cases, the player and jersey number are synonymous. In other cases, the jersey number represents sustained greatness at a particular position. Some players are superstitious about their jersey number. Whatever the case may be, jersey numbers are an important part of the fabric of professional football.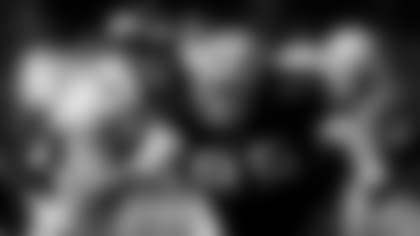 DT Chuck Osborne played for the Raiders from 1998-99.
Eight players have worn No. 98 in Raiders history, all after 1985, and all defensive linemen.
Mitch Willis – DT – 1985-88
The Raiders selected Willis in the 7th round of the 1984 NFL Draft out of SMU. He played in 40 games with one start and recorded two sacks before he was acquired by Atlanta during the 1988 season. He also played for Dallas in 1990.
Ricky Hunley – LB – 1989-90
Hunley joined the Raiders after four years with the Broncos and one with the Cardinals. He played in 23 games with one start and recovered one fumble.
| | |
| --- | --- |
| | |
| | DE Bobby Hamilton played for the Raiders from 2004-05. AP Photo. |
Kevin Johnson – DT – 1997
Johnson joined the Raiders after two years with the Eagles. He played in 15 games for the Raiders in 1997.
Chuck Osborne – DT – 1998-99
Osborne joined the Raiders after a year with the Rams. He played in 22 games and recorded one sack.
Darren Mickell – DE – 2001
Mickell joined the Raiders after four years with the Chiefs, three with the Saints and one with the Chargers. He played in one game for the Raiders in 2001.
Akbar Gbaja-Biamila – DE – 2003
An undrafted free agent out of San Diego State, AGB wore No. 98 in 2003 and No. 94 in 2004. He played in 31 games and recorded two sacks. He went on to play for San Diego and Miami.
Bobby Hamilton – DE – 2004-05
Hamilton joined the Raiders after five years with the Jets and four years with the Patriots. He played in 30 games with 28 starts and recorded three sacks, one forced fumble and two fumble recoveries. He went on to play another season with the Jets and one with Cleveland.
Jay Richardson – DE – 2007-09
The Raiders selected Richardson in the 5th round of the 2007 NFL Draft out of Ohio State. He played in 48 games with 22 starts and recorded seven sacks. He played for Seattle in 2010 and New Orleans in 2013.
CJ Wilson - DL - 2014-present
After four years in Green Bay, Wilson joined the Silver and Black in 2014. In his first season in Oakland, he played in all 16 games, making seven starts and recording 2.0 sacks.