Two days ago, I wrote that football was back. I was wrong because NOW football is back.
Today, the Raiders took the field for their first practice in pads and third practice of Training Camp 2014, presented by California National Guard. On a sunny day in Napa, and on the first Sunday with Raiders football since December, the players took the field for some hard-hitting, fast-paced football.
"I thought it was a heck of a practice for the first day out in pads," said Head Coach Dennis Allen. "I think guys are competing. You see on both sides of the ball, both sides of the ball are making plays out there. I was impressed, really specifically, the way we were able to make some really contested plays in the passing game. James Jones made a heck of a play down the field. I thought overall that Greg Little made a nice play on a contested throw, so I think that's good to see. Some of these wide receivers are beginning to step up and that's a positive sign for us. A lot of good things to learn from off this practice, we'll get in and watch the tape and make some corrections."
For the players, the real football began today. "You get to play real football now," said TE David Ausberry. "It's no more hitting a guy and letting off because there's no pads. The energy is raised a little bit. You get to play a little bit of real football and we're all having fun."
Practicing in pads is critical for the linemen. "It's the most important thing about football is doing it in pads. You have to get your timing down. You have to get your feeling down. You have to get your fit down. You have to get comfortable with it," said T Donald Penn. "The first day was a little rusty because you have to get that feeling going. Every day it's going to get better and better and better, but I'm glad we're finally in pads. I'm glad we can stop playing two-hand touch."
Putting on the pads allows the players to get closer to game-like situations. "Guys are always excited to put the pads on because there's only so much you can do without them, but once you put the pads on, the craft now upgrades," said LB Sio Moore. "Now you have to be able to do a lot of the fundamentals and techniques with pads on the proper way. Now you get to hone in even more. Everyone is really enjoying it, but it's hard work."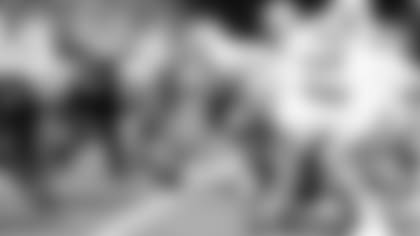 The Raiders practiced with a lot of energy the first two days, but there was an added level of intensity Sunday. "I thought we had great energy the first practice. I thought we had great energy the second practice. But it did turn up a notch with the pads being on," said Penn. "If you don't like hitting, you shouldn't play football. When you put the pads on, everyone loves hitting, so the intensity did go up a notch and I thought we competed today, both sides of the ball. It was back and forth practice – defense won some, offense won some – we were going back and forth. Great start, but we have a long way to go."
With the first preseason game approaching quickly, the players want to get accustomed to pads and get the feel for the game. "When you put the pads on, it's real football," said CB Chimdi Chekwa. "It's extra weight, guys get to hit and it's a different speed when you're in pads. It's just completely different. So it's real football when you put the pads on."
A player may be able to fly around in helmets and shorts, but the pads tell the true story about each athlete. "It was very exciting. It was fun to finally get the pads on and hit. This is when you show your true colors," said Penn.
It was the first padded practice with many more to come during training camp, but it was a good start for the Silver and Black. "There was a lot of competition. It was a very good day," said Moore. "Everyone was out here trying to get better. It was really a good day of work. It's time to go back in and look at the film and get ready to go back at it."
The Raiders take the field Monday afternoon for their fourth practice and second in pads.