QB Matt Leinart hands the ball off to RB Mike Goodson. Photo by Tony Gonzales
The Raiders returned to the field Friday for their fourth practice of training camp and second practice in pads after a players' day off. The team practiced in front of nearly 1,000 Raiders fans at their Napa Valley Training Complex. "Fans are always fun," said QB Matt Leinart. They're passionate here and that's just something that I love. The Raider [Nation is] just diehard fans and they love their ball and it's fun to be a part of that."
The fans provided a charged atmosphere at practice with cheers going up after nice offensive and defensive plays. "It was a lot of fun," said S Matt Giordano. "We have great fans. It's a great idea to have them come out and we're so thankful for their support."
The players couldn't let the fan support distract them, however, as they continued to prepare for the upcoming season. "Practice was good after the day off," said LB Travis Goethel. "The day off was nice to get the body kind of rested up a little bit before we go back into it, so the body felt pretty good today."
Leinart felt good about practice after a day of rest. "I thought it was good today," said Leinart. "The tempo was fast. That day off was nice, but it's not too long, so it gives you time to get a little break, let your body rest up and then you get right back after it. The fans were out here today, it was fun. It was just a fun day, productive, and just have to keep stacking the practices back to back."
Only the second practice in pads, the guys are slowly working up to game-style play. "You can tell the hitting is starting to increase, which is good," said Giordano. "You're in that phase of camp now where there's no looking back and there's no light, so you just have to keep grinding and keep working. It's getting fun."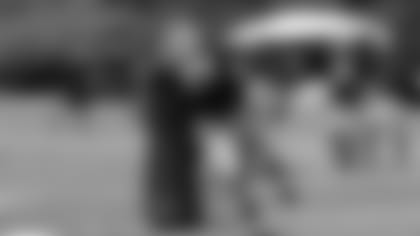 S Matt Giordano reaches out to intercept the pass. Photo by Tony Gonzales
Nearing the end of Week 1, the team is starting to get into the flow of training camp. "I think guys are starting to loosen up a little bit more," said RB Mike Goodson. "Guys are starting to stretch and your body starts getting used to the practice."
 The team is becoming more comfortable with the new offense and defense. "I think it's always a work in progress anytime you have a new installation of an offense and defense, but I think everyone is picking it up, everyone is paying attention," said Leinart. "We have a good mix of veteran guys and young guys, so it's a collective effort and I feel like we're picking it up. It's a day-to-day process and then time will tell when we get into the preseason games and all that stuff. But we're definitely grinding away and we're working hard."
As training camp progresses, the players are building chemistry. "I think there's a lot more camaraderie and things like that," said CB Shawntae Spencer. "All the guys seem to get along, especially on the defensive end and we enjoy playing with each other so I just look forward to seeing how that develops."
Giordano has also noticed how well the team, specifically the defense, is gelling. "I think this is what camp is all about, just one day at a time," said Giordano. "This is the good thing about being away from friends and family is that you become close friends with your teammates. It's going to be good and this defense is going to be great and we're going to gel together and it's going to fun this year."
Entering his fourth season with the Silver and Black, WR Darrius Heyward-Bey feels good about where the receiving corps and offense is headed. "It's coming along, but we could definitely be better," said Heyward-Bey. "It's still the first week of camp, we still have to get things going, but it's work and we're willing to put it in and it's going to get right."