*TUCK'S R.U.S.H. FOR LITERACY ANNOUNCES $250,000 GRANT TO 50 FUND'S BAY AREA EARLY LITERACY INITIATIVE - SUPER BOWL 50 HOST COMMITTEE'S 'THE RE(A)D ZONE' TO COMBAT 'SUMMER SLIDE'
*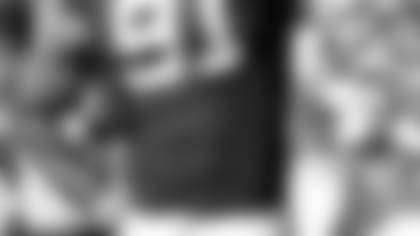 SAN FRANCISCO –Tuck's R.U.S.H. for Literacy—the children's literacy program founded by two-time Super Bowl Champion and Pro Bowl defensive end Justin Tuck and wife Lauran—today announced a $250,000 grant to provide books and literacy enhancing programs for low-income Bay Area children, prioritizing children in public housing. The investment is the lead contribution to "The Re(a)d Zone"—a 14-month Bay Area early literacy initiative created by the 50 Fund, the legacy fund of the San Francisco Bay Area Super Bowl 50 Host Committee.
The Tuck's R.U.S.H. for Literacy grant will be used as a dollar-for-dollar match for Bay Area summer literacy programs to purchase up to 50,000 new, high-quality books from First Book, which currently distributes books to more than 3,000 programs in the Bay Area. In addition, the grant will provide more than 25,000 additional books through Imagination Library, which fosters a love of reading among preschool children and their families, and through Jumpstart's's Read For The Record® campaign in October. myON will provide free access to the world's largest interactive digital library for all Bay Area children and families during Summer 2015, and partner with Tuck's R.U.S.H. for Literacy to provide selected districts with subscriptions to the myON personalized literacy environment in Fall of 2015.
"Through initiatives like The Re(a)d Zone, we are able to transform summer from a period of risk, to a time of opportunity for low-income children," said Lauran Tuck. "Since 61% of low-income children don't have access to books in their homes, this investment is an important first step to ensure that Bay Area children have the resources they need to become lifelong readers and learners."
By investing in The Re(a)d Zone, Tuck's R.U.S. H. for Literacy joins a robust partnership including the Bay Area communities that are part of the Campaign for Grade-Level Reading, campaigns like Summer Matters, and organizations such as the California Library Association and Pacific Library Partnership. Collectively, these efforts will build up and strengthen programs that help struggling readers to catch up, help marginally proficient readers to avoid the "summer slide," as well as allow low-income children across the region to gain access to books, reading programs and early literacy supports.
"Investment and support from leading early literacy advocates such as Lauran and Justin Tuck can help us move closer towards closing the opportunity gap that exists from so many children today," said Jason Trimiew, VP of Community Relations for the Super Bowl 50 Host Committee. The Re(a)d Zone will reach more than 50,000 low-income Bay Area children through a number of high-quality literacy-enhancing programs beginning this summer and continuing beyond Super Bowl 50 to summer 2016. The Re(a)d Zone will also feature an early literacy summit during Super Bowl week. "Education is a true equalizer," said Justin Tuck. "We started Tuck's R.U.S.H. for Literacy over seven years ago and we have dreamed of having partners like this to create a larger impact. Together with the 50 Fund we can use the platform of Super Bowl to shine a spotlight on this important issue."