**NFL RECOGNIZES VETERANS DAY AND HONORS MILITARY WITH "SALUTE TO SERVICE" CAMPAIGN
NFL to Make Financial Donation for Each Point Scored During Salute to Service Games
The National Football League and the NFL Players Association will continue its long history of honoring veterans and active duty members of the military with its annual Salute to Service campaign. Again this year, for every point scored during the NFL's 32 designated Salute to Service games, the league will donate $100 to each *of its three core, military non-profit partners – the Pat Tillman Foundation, USO, and Wounded Warrior Project® (WWP) – for a total of $300 per point. Last year, the first year of the campaign, the NFL donated nearly $800,000 as a result of the *Salute to Service campaign.
Players will wear newly designed on-field apparel including hats, sweatshirts, gloves and captains patches, and will use camouflage Gatorade towels on the sidelines.
Throughout November, teams will designate one home game to honor the military. During these games, which begin with tonight's Thursday Night Football Vikings-Redskins game on NFL Network, teams will display a number of Salute to Service-branded elements throughout their stadiums.
The games will also feature:
Players wearing helmet decals honoring military branches including Army, Navy, Air Force, Marines, Coast Guard and National Guard
Camouflage ribbon footballs used during every play
Camouflage goal post wraps and pylons with camouflage ribbon decals
Wall banners and the words NFL Salute to Service written in the back of the end zone
Camouflage equipment for players including quarterback towels, Nike and Under Armour gloves, captain's patches, camouflage Gatorade towels, New Era caps and knits, and Nike KO Hoodies
Camouflage sideline hats for coaches and sideline personnel and camouflage ribbon pins for coaches and team executives
Salute to Service coins for the coin toss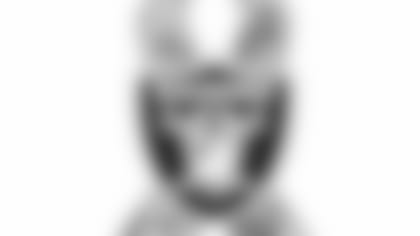 ](http://www.raiderimage.com/605313010000.html)Game-worn Salute to Service merchandise and footballs will be auctioned at NFL Auction ([www.nfl.com/auction](../../../../../Documents and Settings/clare.graff/anna.isaacson/AppData/Local/Microsoft/Windows/AppData/Local/Microsoft/Windows/Temporary Internet Files/Content.Outlook/9B4CVD3P/www.nfl.com/auction)). For the first time, special camouflage merchandise, including a New Era hats (NewEraCap.com), a Nike KO Hoodie (Nike.com) and select players Salute to Service jerseys, will be available at NFLShop.com and in select stadium retail stores, with 100 percent of the NFL's net proceeds donated to the league's three core military nonprofit partners. The NFL does not profit from the sale or auction of Salute to Service merchandise. For more information, visit www.nfl.com/salute.
The Salute to Service is part of the NFL's tradition of supporting America's armed services, including a partnership of more than 45 years with the USO for overseas visits to troops and trips to military hospitals nationwide. The USO will use funds raised from Salute to Service to support Operation Enduring Care, the USO's campaign to support injured troops, their families and caregivers throughout the rehabilitation process. The centerpieces of Operation Enduring Care are two new USO Warrior and Family Care Centers at Fort Belvoir in Virginia and at the Walter Reed National Military Medical Center in Maryland. Funding from Salute to Service also will be directed toward the construction and programming of the  NFL Sports Lounge at the new USO Warrior and Family Care Center in Bethesda, Maryland.
The NFL works closely with Wounded Warrior Project, a non-profit organization that honors and empowers wounded soldiers.  The league's donation will help launch Physical Health and Wellness Expos throughout the country that aim to break down barriers to a healthy and active lifestyle. The overall goal of the Physical Health & Wellness program is to create independence and teach wounded warriors skills they can take back to their communities. Participants in the WWP Physical Health & Wellness Expos will be encouraged to live healthier and will be given the tools to do so long after the event.  WWP assists injured service members across the country and has offices in 16 cities.
The NFL continues to offer its NFL Game Pass service free of charge at USO Centers for military members stationed in Afghanistan, Australia, Iraq, Kuwait, Germany, Italy, Korea and Japan. At the USO facility in each of these locations, service members can watch any NFL game live and online in its entirety. NFL Game Pass also is offered free of charge at US Embassies.
Learn more about the NFL's year-long commitment to the military and veterans by visiting www.nfl.com/salute.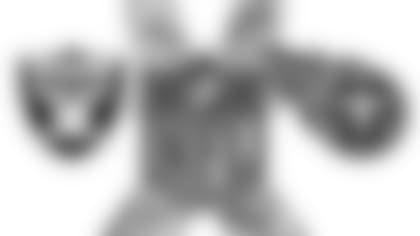 ](http://www.raiderimage.com/605313080000.html)Raiders Salute to Service Game
The California National Guard, a new Raiders sponsor this season, will be the title sponsor of the Raiders STS game on November 24. The game will begin on-field with a military reenlistment, followed by a performance from the Travis Air Force Ceremonial Marching Band.  A large American flag will be unfurled by the National Guard after the presentation of colors. In addition to the game day assets devoted to honoring the military, the National Guard and the Oakland Raiders will be hosting RON WHITE and his Memory Wall.  Decorated veterans and active duty military will be highlighted on the in-stadium video board. Raiders players will visit two National Guard recruitment offices in the Bay area on November 12 and 19.  During each home game, the California National Guard provides the Raiders with Color Guard, and "Tunnel of Influence," soldiers who help welcome the team to the field during introductions.