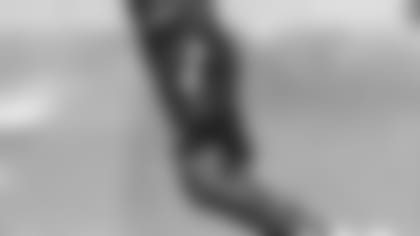 Rookie wide receiver Amari Cooper leaps for today's Play of the Day. Photo by Tony Gonzales/Raiders.com
The Oakland Raiders hit the brand-new practice fields at their Alameda, Calif., facility one more time this week before hosting the Arizona Cardinals on NBC's Sunday Night Football. It was another warm day in Alameda as temperatures climbed past 85 as practice wore on. The broadcast team from NBC's Sunday Night Football were on hand for practice.
Color commentator Cris Collinsworth was impressed with the team's new fields and Performance Center.
"That is the workout facility extraordinaire," Collinsworth remarked. "I think as a player anytime you come back and you see something new, you see something exciting, you get the feeling that your team is really engaged, and they're doing everything they can possibly do to help you win, it just makes you feel good, it makes you want to go out there to the practice field and give it everything you got."
Longtime NBC Sports TV executive and current senior advisor for NBC Universal, Dick Ebersol, made his first trip to the Raiders Alameda facility. He too came away impressed.
"Unbelievable, first class all the way," Ebersol said. "I've been to every stadium that the league has played in in the last 30 years. This is the last training facility I've never been in. Today completes the cycle."
Both Collinsworth and Ebersol agree that the NFL and sports television are better when the Raiders are on top, and are thrilled to have the Silver and Black on NBC's Sunday Night Football.
"It's really great," Ebersol said. "There's nothing like the Raider brand. It would be so good for everybody to see it be strong again. It's really key to football, and the fan base to have the Raiders come back."
Collinsworth added, "We talk about it all the time is that one of the things that cold rally uplift television ratings is if the Raiders got good again. There was certain thing about the Raiders when you watched them on television, the Black Hole is cool, but there was just this swagger, they were just a little different than everybody else. As television people, we'd love to see the Raiders get back in the mix again."
Here are today's practice observations:
Tight end Clive Walford, defensive end Justin Tuck, fullback Jamize Olawale and wide receiver Andre Holmes did not participate in today's practice.
Today's practice was labeled Fast Friday the coaches pushed for an up-tempo, high-energy pace throughout all the drills and team activity.
The team spent a large portion of practice working 7-on-7 in the red zone.
Wide receiver Rod Streater made an impressive touchdown catch in traffic in the back of the end zone. Looking forward to see Rod in his second game back this Sunday night. He seems to be finding his stride since returning to the field a couple of weeks ago.
Wide receiver Amari Cooper hauled in a pass near the pylon at the goal line and kept both feet in bounds for what was ruled a touchdown.
Play of the Day
Wide receiver Amari Cooper made an impressive flying, leaping grab.
Tweet of the Day