Pro Football Hall of Fame cornerback Willie Brown poses for a photo with SFC Sal Reyes, Jr.
Pro Football Hall of Fame cornerback Willie Brown served as the guest speaker at the retirement ceremony for SFC Sal Reyes, Jr., 149th Chemical Company, California National Guard. The ceremony took place at Tracy Facility, San Joaquin Depot, in Tracy, Calif.
During his surprise visit, Brown told stories of his playing days and answered questions from the soldiers in Reyes' unit as the 20-year military man looked on with his parents, wife and children.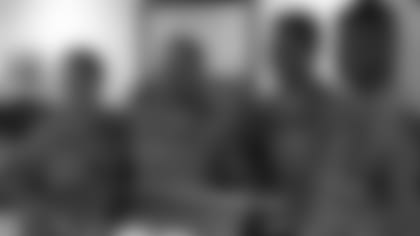 SFC Sal Reyes, Jr., (far right) is presented a token of his unit's appreciation.
"It meant a lot, I've been a Raider fan ever since I was growing up in LA all the way to Oakland," Reyes said. "Having his type of leadership on the team was instrumental. I felt that made a great example to my unit. It was a blessing to have him here." 
"I think its great, the guy's in this area, I live here, [Reyes] is retiring here," Brown said. "Anything I can do to contribute to the success of this community I'll do it because of the respect I have for them. It's good being right here in Tracy."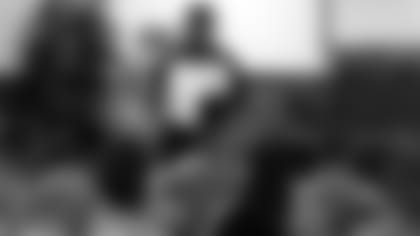 Raiders Hall of Famer Willie Brown addresses the soldiers of the California National Guard's 149th Chemical Company.
After the ceremony, which was organized and facilitated by Capt. Shannon Terry and SSG Nicholas Barragan, Brown posed for photos and signed autographs as the attendees enjoyed refreshments.