WR Juron Criner runs after the catch. Photo by Tony Gonzales
The Oakland Raiders returned to the field Sunday for their 15th practice of Training Camp 2012, powered by Verizon 4G LTE. More than two weeks into camp and halfway through the preseason games, the team is looking to close out the final few days in Napa with strong practices, continued focus and improvement. "This is preseason, this is training camp, this is still a work in progress," said Head Coach Dennis Allen. "We are trying to be ready for the opening game of the season."
The team participated in its first practice since their loss to the Cardinals in Arizona on Friday. Despite the loss, the players took some positives from their performance. Alex Parsons started at center for the injured Stefen Wisniewski. "I think I did pretty well," said Parsons. "I graded pretty well. It was an exciting experience; I hadn't started since college, but it was fun, it was nerve racking at the beginning, but as soon as you get that first hit, it was exciting."
CB Chimdi Chekwa recorded his first interception at the start of the second half. "It felt good," said Chekwa. "I'm finally feeling comfortable and more relaxed out there so it felt good to get my first interception."
WR Juron Criner, who caught one pass for 26 yards and rushed once for eight yards, is using each day and each game as a learning experience. "I feel like it's going good," said Criner. "Each game you take in something different and learn a little bit from it. And I just feel like I'm progressing and learning from each game."
The players will learn from the Cardinals game and get ready for Saturday's game against the Detroit Lions at O.co Coliseum as training camp winds down. "We are still working to get better," said Coach Allen. "We have got to have the end in mind as we work. So nothing changes, we have to eliminate all the outside distractions and focus in on what our job is and that is to get prepared to play the Detroit Lions."
RB Taiwan Jones returned to practice today after rehabbing from an injury. "It felt good," said Jones on getting back out on the field. "For a couple of weeks now, I've been over there doing Combine drills so it was good to get my reps and go through progressions."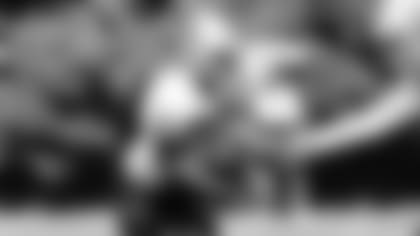 RB Taiwan Jones takes the hand off from the QB. Photo by Tony Gonzales
Jones hopes to play against the Lions and get a game under his belt. "It's my first game for the most part so I'm just excited about that," said Jones. "I just want to go out there and show the fans what I can do. It's been a long time, pretty much since last year."
As excited as the guys are about playing a game, their focus is still on the training camp grind. At this point in camp, the players' bodies and minds are tired. "You just have to get your body right again," explained Parsons. "Tough game, you only play a half, but it's a lot of plays and it's intense, so you just have to get your body right and your mind right and get in the playbook again. Mentally fresh isn't as bad as physically. Your body kind of takes a toll so you just sit in ice baths a little longer, the ice bath helps, massaging more."
Chekwa feels mentally stronger each day at camp as he becomes more comfortable in the defense, but takes extra care to not get fatigued physically. "Really, I think I get more fresh as the preseason goes on," said Chekwa. "As we get closer and closer to real games, the coach does a good job shortening practices a little bit and allowing us to be able to get fresh for the games."
Making it through training camp is a mindset for Criner. "You just have to grind every day," said Criner. "You just have to get the mindset that this is a long process and you can't focus on the end results. So when you focus on the end results, you lose sight of the process."
Jones has had to stay prepared and focused despite being sidelined. "I've had to stay in it mentally," said Jones. "I wasn't out there, but I had to take my reps, act like I was in there. And the same thing with film, you don't see yourself on there, but you have to put yourself in the other running backs' shoes as if you're taking those reps. That was tough, but I was able to do it."