DT Dominique Hamilton. Photo by Tony Gonzales

The Raiders took the field Saturday for their fifth practice of Training Camp 2012, powered by Verizon 4G LTE. In front of another large group of fans, the team continued to prepare for their first preseason game, which is a little over a week away. One unit, the defensive line, both rookies and veterans, is working hard to fix mistakes from last year and come out and stay strong through the regular season.
"I think we've got a great group of guys," said DL Desmond Bryant. "I think we played pretty well at times, but there were other times where we didn't get as much pressure on the quarterback as we could have. So we just want to work to be more consistent and have a high level of play in all the different games."
Head Coach Dennis Allen likes the defensive front, but sees room for improvement. "I've been impressed with the front," said Coach Allen. "We have to do better using our hands, our pad level is still high, we still have to make sure that we're disciplined enough to stay onsides, that's still been a little bit of an issue but up front I'm pleased with the way the guys are responding and the way they're attacking."
The rookies have recognized the veteran talent on the line and are soaking up that knowledge each day of camp.  "As a rookie coming in, I really try to learn from some of the veterans on the team like Tommy Kelly and [Richard] Seymour," said DE Jack Crawford. "People in my position like Lamarr Houston and [Matt] Shaughnessy are always giving me tips just on how to improve my pass rush personally. I think you have a great group of guys here and just watching them they get off the ball and when it's time to go they go."
The Raiders hope to improve on their dominance rushing the passer during the upcoming season. Rookie DT Dominique Hamilton is taking the opportunity to observe veterans Kelly and Seymour, who have been a big part of that Raiders success. "TK and Seymour, they're teaching us a lot, good technique, showing the younger guys how to get back there," said Hamilton. "I think we're learning and embracing what they're showing us."
While the defensive line wants to continue to get after the quarterback, they know they need to improve their run defense. "You have to pride yourself in the run and then you earn the right to rush the passer," said DE Matt Shaughnessy. "That's how I've always been taught so that's how I play it."
Crawford is confident that Coach Allen and defensive coordinator Jason Tarver's defense will help them limit the rushing attack. "I think the defense that Coach Tarver and Coach Allen have put in is designed to definitely help stop the run this year," said Crawford. "Just technique wise, [defensive line coach Terrell] Williams is definitely just teaching us just going back to basics, fundamentals about holding our positions and holding our gaps and our responsibilities in this defense to kind of stop the run and then go get it on pass."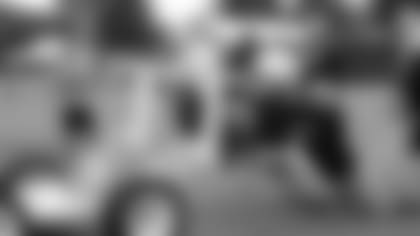 The defensive line goes through position drills. Photo by Tony Gonzales
Hamilton is focused on the technique of stopping the run. "We have to play in our gaps and get good push up-field," explained Hamilton. "That's what we need, that's what's crucial. I feel like if we all just contribute and everybody gets good push up field, we'll be good. It closes down the lanes."
The defensive linemen feel they are improving each practice. "I feel like every day I step on the practice field, I try to pick out a few things that I want to work on, usually one or two things, and get better at those things," said Bryant. "Over time it just makes me a better player I think."
Crawford learns from his mistakes during practice to get better. "The truth is, every day I'm making different mistakes against different players and I always tend to learn from my mistakes," said Crawford. "So it's definitely a great experience for me just getting better as a player."
Shaughnessy keeps the overall goal simple: "penetration, getting into the backfield, disrupting," said Shaughnessy. "If they happen to be rushing or it happens to be a pass, switch from run defense to pass rush."
For rookie Crawford, improvement depends on practice. "This game is about building good habits and the way we're going I think is the right direction," said Crawford on the defensive line. "I haven't been here, this is my first year, but just where we're at right now, I think that making these small mistakes now, we're going to correct them down the line and I think we're going to have a good year this year."
The defensive line relies on each practice to progress. "Just continue to work to play better together as a team, make sure we have all the new schemes that we have down, make sure that we know where we're supposed to be when we're supposed to be there at all times," said Bryant. "If we continue to work on that, I think we'll be ready to go."
The defensive line wants to increase the number of sacks, decrease the rushing yards, and dominate the opposing offensive lines. They will have their first opportunity to face off against an opponent on Monday Night Football. Until then, the linemen will use training camp practices to get better as a unit.