CB Joe Porter and the students at Blacow Elementary huddle up after the Gatorade Junior Training Camp. Photo by Tony Gonzales.

Recently, CB Joe Porter visited John M. Blacow Elementary School in Fremont, Calif., to help lead a Gatorade Junior Training Camp for the sixth grade students. Porter, and Raiders representatives and volunteers, guided the students through football footwork drills to show the kids how physical activity can be fun.
The Junior Training Camp is an hour-long session designed for kids 7-12 years old to have the opportunity to experience the educational and recreational benefits of football in a fun and safe environment. The camp fits in well with one of the mission's at Blacow Elementary. "At this school we really stress and promote healthy lifestyles and physical fitness for our students so this is a great opportunity to teach the students how they can be physically fit while having fun," said Principal Angela Morariu.
The 75 students broke into groups and rotated between five stations, which included both offensive and defensive style drills. Porter made his way between the drills, coaching and encouraging the students. "I was anxious to get out and work with the kids again and do things like that because when I was younger we didn't have stuff like this," said Porter. "We didn't have anybody come to our schools. It's really enjoyable and I was really thankful to have the opportunity to do it."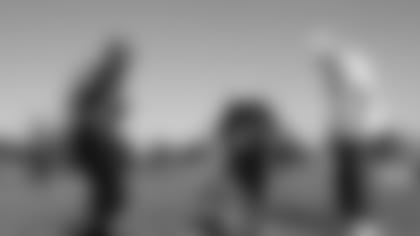 CB Joe Porter helps a young Raider fan through a drill. Photo by Tony Gonzales.
Having Porter participate in the Junior Training Camp meant a lot to the students at Blacow. "I think it was a great opportunity," said Morariu. "Our students rarely get to go to games themselves so to have a player come out here, take the time to come out here, and be with the kids; it was incredible."
"I'm pretty humble so I don't know how big that was [to have me there]," said Porter. "But just to have somebody, a professional athlete, whatever the sport, I think it's probably a big deal to them."
One of the most important aspects of the Junior Training Camp is encouraging physical activity. Porter hopes the camp impacts the students in a positive way. "It's huge, especially nowadays when people are becoming more and more accustomed to a sedentary lifestyle, everybody sitting around," said Porter. "Our obesity rate is through the roof in this country and just having the kids come out and play and remembering how fun it was. Everything you have nowadays with internet, video games and showing kids you can have fun [on a field]; it's huge."
After an hour of fun, high energy football drills, the students rehydrated with their Gatorade and took a photo with Porter, commemorating their camp experience. Morariu hopes that the students learn an important lesson from their training camp experience. "I hope that they get that they can have fun while staying physically fit," said Morariu. Spots for Gatorade Junior Training Camp throughout November and December are still available. Click here for more information on how your school or organization can sign up.