QB Matt Leinart, WR Rod Streater, S Matt Giordano, RB Mike Goodson and Raiderettes Nicole and Sasha pose for a photo with the U.S. Marines during Toys for Tots. Photo by Tony Gonzales

The Oakland Raiders teamed up with the U.S. Marines at The Raider Image in Southland Mall in Hayward, Calif., to collect toys for the Toys for Tots program. WR Rod Streater, QB Matt Leinart, S Matt Giordano and RB Mike Goodson signed autographs in exchange for toys that will be distributed to underprivileged children in the Bay Area. Raiderettes Nicole and Sasha were also on hand to pose for photos and meet the Raiders fans.
"The mission of the U. S. Marine Corps Reserve Toys for Tots Program is to collect new, unwrapped toys during October, November and December each year, and distribute those toys as Christmas gifts to less fortunate children in the community in which the campaign is conducted," the Toys for Tots website explains.
The four players were excited to have the opportunity to give back during the holidays. "We are here for the U.S. Marines and Toys for Tots and just helping out," said Leinart. "In exchange for us signing some stuff, they're all giving toys away. So we're just trying to basically give back, put smiles on [kids'] faces for Christmas this year with extra toys."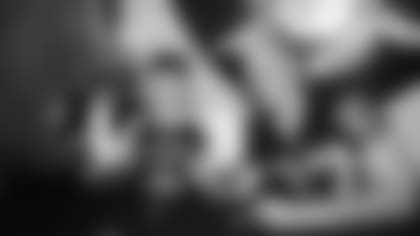 RB Mike Goodson and S Matt Giordano pose for a photo with a young Raiders fan. Photo by Tony Gonzales
Giordano understands his status as a Raider and wants to use it to help others. "Being a professional athlete, you're blessed with so many things and it's just always good to give back to the community," said Giordano. "Christmas time is a special time. It's awesome just to have kids open presents on Christmas day, especially if they don't have the means to. This is a good way to do it and provide for them."
Giving back during the holiday season is especially meaningful for Leinart. "I think Christmas time is always a special time," said Leinart. "Through my own charity, I do a lot of stuff with giving back to kids and giving toys out. I just thought this was something cool to be a part of. This is just something that I love around Christmas time, just make kids' day. Christmas is supposed to be about opening presents and watching the kids run around with new toys and stuff, that's what we're trying to help create."
Streater and his teammates were also eager to work with the Marines. "That's another great thing," said Streater. "I have a bunch of family in the Marines, so it's good to experience [working with the Marines] and lighten up their day a little bit."
"We don't get a lot of chances to do anything as significant as what they do for us, so just trying to give back," added Goodson.
Helping out with Toys for Tots is another way for the Raiders to show their appreciation to the U.S. military. "It's great [to work with the Marines]," said Giordano. "I respect the Marines a great deal. They do so much for our country and just provide freedom so we can go out there and play on Sundays, so I'm very thankful for them."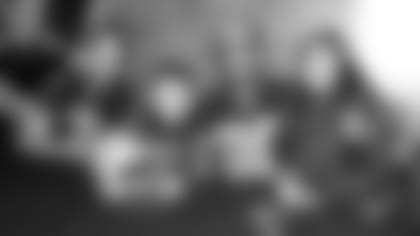 QB Matt Leinart and WR Rod Streater pose for a photo with two young Raiders fans. Photo by Tony Gonzales
Toys for Tots, an annual event for the Raiders, provides hundreds of toys and donations to the local community. "My favorite part of an event like this is just knowing that you're going to give a child joy on Christmas, a child that might not otherwise be able to have a present on Christmas, and knowing that you're a part of making that child's Christmas special," said Raiderette Nicole.
Not only do the Raiders players get the chance to help collect toys and work with the Marines, but they also have the opportunity to interact with Raider Nation. "It's great," said Giordano. "It's always good to meet your fans, so it's also a good way to give back as well. We're thankful that they came and they're supporting this as well."
Raiders fan Troy Dunlop attends Toys for Tots every year. "I think it's very important to give to the kids," said Dunlop. "I try to get friends to come down with me and get as many people as I can to make sure we donate toys. The players, it's awesome, they're always real generous. I'm real excited to meet Streater and Giordano and everybody else and it's going to be awesome."
 "Raider Nation is crazy and awesome," said Leinart. "This year has been a tough year I'm sure for the fans to watch, but they're still supporting us big time. They're Raider Nation until they die, and no matter how tough the year is going or how good it's going, they're always here, always supporting the Raiders."
U.S. Marines will be on hand to collect donations at O.co Coliseum on Sunday, December 16, 2012 as the Raiders take on the Kansas City Chiefs.  In addition to new, unwrapped toys, monetary donations will be accepted.  Marines will be stationed in Raiderville, as well as the West Side Plaza, near the BART entrance, and Gates A, B, C, and D, before kickoff.
Another contingent of Raider players will be signing in exchange for a new, unwrapped toy donation valued at $20 or more at The Raider Image at Southland Mall in Hayward on Monday, December 17 from 6–8 p.m.