By Levi Edwards | Digital Team Reporter
Kolton Miller is a simple man to please: He loves the great outdoors; he loves good food; and he loves football.
All three of those provide comfort and sanity for the Raiders left tackle, who has quietly been on the rise since he was drafted by the Raiders in 2018. In the offseason, while Miller is away from the game of football, he tries to get outside and enjoy nature as much as he can. That includes fishing trips across the country with his family and friends – an activity he's found great tranquility in.
"I went to Alaska this past offseason and caught a big halibut, an Alaskan halibut. It was about 90 pounds and a good five feet," Miller said. "I've caught some halibut in San Francisco and it was nothing like Alaskan halibut. I caught some steelhead – it was like a 37- or 38-inch steelhead. Yeah, that was a good time."
The Alaskan halibut is one of the biggest flatfish found in the sea, something Miller can probably relate to as one of the biggest offensive linemen in the NFL. After signing a three-year extension this offseason, Miller is in the midst of his best season yet: The former UCLA Bruin has played every single offensive snap for the Raiders with a 82.2 overall PFF grade, the best of any AFC left tackle this season.
Miller's success has been no surprise to his teammates.
"Kolton is one of my best friends," Andre James said during 2021 Training Camp. "Coming into the league, he was a huge mentor to me. Him, Richie, hanging out with those guys just showed me the ropes because it's a little different than college. But me and him were both real close at UCLA so to both end up here in the same place is pretty awesome. I can't even explain it."
Richie Incognito also detailed his relationship with Miller in the offseason and how pleased he's been to see him improve since they've become teammates.
"I think Kolton is a stud," said Incognito. "I think he's got a bright future ahead of him. He's grown every year as a player. He's a stud out there at left tackle, and I don't think he gets enough credit for how good he is.
"I came in in 2019 and just tried to help him a little bit," continued Incognito. "Help him with his technique, help him when he's out there thinking, and what he's out there trying to do and he balled out. He balled out in 2019 and in 2020, and that's why he's sitting there with a brand new contract."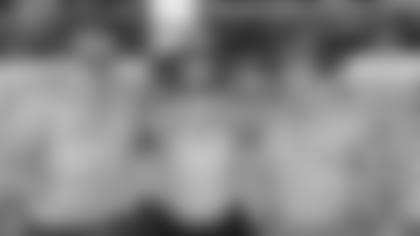 Miller told Raiders.com that the common bond that links James, Incognito and himself — "the three amigos" on the offensive line — off the field has been good food. The three find time to go out and eat at a variety of restaurants around the Las Vegas Valley with sushi, Korean barbecue and Chinese food being some of their favorite choices. When they're not dining out, they'll eat some home-cooked meals, with James earning the label of head chef for the offensive line — James baked and then deep fried a turkey for the offensive linemen's Thanksgiving dinner meal.
"The three of us, we throw down food," Miller said with a light chuckle. "Trying to keep the weight up, we'll go around and try different food spots in Vegas."