One last look as the Raiderettes get ready to leave Austria. Photo by Jeanette Thompson.




Six Raiderettes, Hall of Famer Willie Brown and Raiders.com's Jeanette Thompson spent the better part of a week in Austria for Eurobowl XXV as The Oakland Raiders Austrian sister team, the SWARCO Raiders, defeated Berlin Adler for the title.


Here is the 6th and final blog entry courtesy of veteran Raiderette Jennifer...
Our time in Austria finally came to an end today. It was a very bittersweet feeling—we are so happy to be returning home to see all of our loved ones and share our experiences with our Raiderette sisters, but at the same time, we are sad to leave our newfound friends and the beautiful city of Innsbruck. We were only here for six days, but the connections we made were strong. We are so grateful for everyone's hospitality and for being welcomed into this country with enthusiastic open arms. 
We met downstairs in the lobby of our hotel at 5:00 a.m. with all of our luggage, ready to be shuttled to the small Innsbruck airport. As we walked out of the airport to our plane, we got one final glimpse of the incredible mountain landscape. After a short flight, we arrived at the Frankfurt airport, where we boarded our flight to SFO. 
Our week involved a packed itinerary—from promotions and networking, to dinners and shopping, to dancing, cheering and celebrating—so jet lag was not an option! But we felt the effects of our busy week today and pretty much slept through the entire 11-hour flight home. We were told by our flight attendant that all six of us slept through breakfast on the plane.
Now that we are back home and have time to reflect on our experience, we realize now more than ever that the Raider Nation truly is a global phenomenon. The SWARCO Raiders make it possible for Austrians to cheer on the Silver and Black in their own country and further connects us with fans around the world. We love seeing the Raider Nation represent worldwide!
Congratulations again to the SWARCO Raiders on their Eurobowl XXV victory and best of luck for the upcoming Austrian Bowl!
---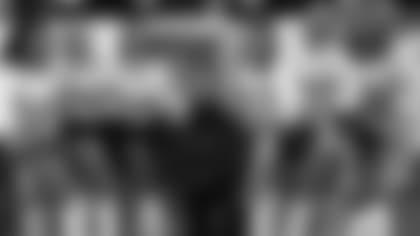 The Raiderettes pose for a photo with Head Coach Shuan Fatah after the SWARCO Raiders claimed the Eurobowl title. Photo by Jeanette Thompson.
Here is the 5th blog entry courtesy of veteran Raiderette Angel...
Hey Raider Nation, it's now Day 5 and the greatest trip of our lives is sadly coming to an end. We started off with a well slept-in morning...then we headed to the Swarovski Crystal World for a grand tour of the beautiful museum that was pure sparkle to our eyes. We loved every second of viewing several exhibits featuring many different artists including elements by the one and only Swarovski.
This was followed by a little bit of shopping of everything beautiful made of course by Swarovski. Directly after shopping we headed right over to the Swarovski family's house for a farewell dinner with friends met during the trip.
As we watched the sunset behind the mountains we all took in the moment and the whole week that none of us will never forget. Over the last five days we have had the chance to connect with the city, countryside, mountainside, fans of the Raider Nation and the beautiful people of Innsbruck. This has been the experience of a lifetime thanks to the SWARCO Raiders.
---
Here is the 4th blog entry courtesy of veteran Raiderette Natalie...

Hi Raider Nation!  It's game day and we are so excited!  We started out the day with a little shopping downtown with much success.  Then we were off to get ready for lunch with the mayor of Innsbruck and the European Federation of American Football.  Lunch was amazing and was such a honor to be a part of an official event.  Willie Brown and our Raiderette Director, Jeanette Thompson, gave a speech that made us so proud.  They presented a gift to the mayor and made it known that they are certainly apart of the Raider Nation.  
Next we were off to get ready for the game.  Rain began coming down and that made us feel right at home, rain or shine, game day goes on! We arrived at Tivoli Stadium and made our way to practice with the Swarco Raiderettes.  Immediately following, we dried off and presented gifts to our sister Swarco Raiderettes.  At that point our adrenaline was rushing and it was game time. 
The six of us rushed onto the field to an amazing welcoming.  With the rain pouring and the fans yelling, we were performing for the game of our lives.  I was chosen to lead our line at the game and was nervous, but felt that I had the trust of my sisters and we had the most thrilling game of our lives.  When the game was ending, and the win was clear, the stadium was alive!  It was such an honor to be a part of such an important game and one we will never forget.  I have had the opportunity to experience the Pro Bowl, now the Eurobowl, and my plan is to make it to the Super Bowl next!  Can't wait to carry all this excitement home! 
---
Here is the third blog entry, courtesy of veteran Raiderette Anna...

Today started with a trip to the SWARCO headquarters. We learned all about the products that they created for traffic control. I was very impressed with how environmentally efficient their company is; the LED lights (made in San Jose) that they use for the traffic lights, street lighting and signs save up to 90 percent less energy than regular street lights. 
Next we headed to a school that was the oldest school ever opened in Innsbruck. The students were overjoyed to see us perform for them and asked us questions about American football and cheerleading.
We then went to the galleria in Old Town and rocked out more performances for the crowd. The SWARCO players were very excited to hear encouragement from Willie Brown, Hall of Famer and Super Bowl champion, to get them pumped for the Eurobowl tomorrow! It was so insirational and we all can't wait for tomorrow...Go Raiders! Thanks, Anna
---
Here is the second blog entry, courtesy of veteran Raiderette Itza...
Day 2 in Innsbruck was a busy day for the Raiderettes.  Jennifer and I were up early for a full morning media tour.  We began our tour with an interview for the largest Austrian newspaper.  Within the newspaper there are featured sections based on geographic locality.  Our interview run within that section and possibly in the national paper for all of Austria to read about our upcoming performance at Tivoli Stadium for the Eurobowl on Saturday.  Our second stop was for a German radio station.   A representative from the SWARCO Raiders assisted with translation of our interview since the program was to be aired in German.  We had a wonderful time with DJ Martin Veith on radio station Welle1 Innsbruck.   I did one more interview to end our media tour with the largest Innsbruck newspaper.  My interview should run in Friday's paper and I am excited to pick it up and see it. 
We then had some free time, which Jennifer and I used to go window shopping and take in some gelato from one of the stands that seem to populate every street corner.  It wasn't long before we found ourselves hurrying to get back to the hotel to meet with the rest of our Raiderette sisters who had spent the morning enjoying the swimming pool and other hotel amenities.  It was showtime as we headed to our first official performance in Austria.
As part promotion of Saturday's European Football League final, we were part of a major promotional event at one of the malls in Innsbruck.  We performed for the audience, we signed photo cards,  and posed for pictures with fans.  Some of the SWARCO Raider players were also there greeting fans and getting them pumped up for Saturday's game.  The SWARCO Raiders also have several groups of cheerleaders ranging in ages from 6-17.  We got to meet two wonderful PeeWee Raiderettes who were more than eager to show us their moves.   We put on two shows for the fans at DEZ Mall and even though there was a language barrier, we didn't need a translator for "Go Raiders." 
We had media promotions all morning and performances all afternoon; but we weren't done yet.  Getting back to the hotel we were happy to see that Willie Brown had joined us after a full day of travel.  We all had a nice dinner together, but not before a grueling rehearsal in preparation for the Eurobowl. I am very excited that Natalie, Captain of Line 3, was made captain for the Eurobowl performance.  Having already represented the Raiderettes at the Pro Bowl this past year, I know she will be great. 
It's been a long day Raider Nation! Right now we are prepping for another full day tomorrow.  I am so happy to be representing the Raiders and Raiderettes here in Austria.  I had met some representatives from the SWARCO Raiders in my rookie year when some of the coaches had come to the Coliseum for an international coaches exchange so it's been wonderful to get re-acquainted with them. The people of Innsbruck and especially those of our sister team, the SWARCO Raiders, have been extremely hospitable.  If there is one message I hope to sign off with is that Raider Nation is a Global Nation! Believe it!
---
Here is the first blog entry, courtesy of veteran Raiderette Tiphanie...
Today was our first day in Austria. After 11 hours of traveling we arrived in Innsbruck to the SWARCO Raiders and Raiderettes cheering us on as we stepped off the plane. After that we all went to lunch and began our tour of the town. We saw the famous Golden Roof, the Old Town and all of the adorable shops and restaurants.
Next I conquered my biggest fear of heights by taking a cable car up to the highest mountain. The view from more than 7,000 feet above was magnificent. We actually could see the Tivoli Stadium where we will be performing at the Eurobowl on Saturday.
I had an amazing time and cannot wait to see what else is in store for us.