The Oakland Raiders had a lot of players that deserved the game ball after Sunday's overtime win against the Cleveland Browns, but Head Coach Jon Gruden's player of the game award was designated for one person alone.
"Rodney Hudson," Gruden said postgame. "Rodney Hudson is my player of the game today. People have no idea what the center does, Cleveland was blitzing from every corner, every possible look known to man. Rodney Hudson put our offensive line, our backs, [and our team] in position to at least have a chance to drop back and throw it. Those are hard blitzes to pick up and I give our captain today a lot of credit."
When the Raiders hosted the Dallas Cowboys at the Oakland-Alameda County Coliseum in 2017, Hudson was dealing with kidney stones, but that didn't keep him from suiting up and giving everything he had for the Silver and Black. Not many people have the strength to do what Hudson does on a weekly basis, and it's hard not to root for a guy like that.
Over the last three years, Hudson has started every game he's been eligible for (48) — a true iron man. It's because of his reliable, and gritty attitude he not only has the support of his head coach, but his teammates.
"Rodney Hudson is not only one of my best friends, [but] probably one of the smartest people I've ever been around," Carr said postgame. "Football-wise, he's probably the best player I've ever played with. I know it's hard to say for a center, and when the top 100 comes out he won't be a top 10 guy, but he should be. What he has to deal with on a week-to-week basis, and then me changing his calls. He does a lot on the field… I guess I'm just trying to give you the very best thing I could say about him. He's awesome, he's a pro bowler — should be every year — should be an all pro. He's the man."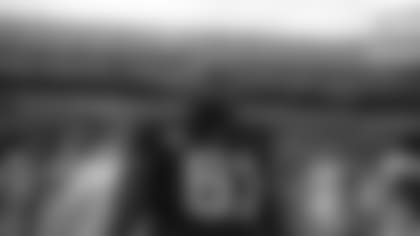 Carr brings up an interesting point; for all that Hudson does, he has yet to receive an All-Pro selection. I think you'd be hard pressed to find someone that's battled through the injuries No. 61 has endured and provide the level of production that he does.
The former Florida State Seminole could soak up all the praise and boast about it, but he doesn't. That's not who he is.
After hearing the comment his head coach gave postgame, Hudson shared the most Rodney Hudson response imaginable.
"I appreciate that, that means a lot, but a lot of guys put in a lot of effort," he said. "This was a team win, and like I said I appreciate it, grateful for it, but a lot of guys put in a lot of work. This was a team win, and a win we had to fight for."
Hudson is as humble as they come, and he's not willing to accept the praise unless his teammates are a part of it. The Raiders scratched, clawed, and climbed their way back late in the fourth quarter, eventually getting the 45-42 win. There were a handful of momentum shifts throughout the game, and Hudson is hoping this will serve as a momentum shift for the rest of the Raiders 2018 season.
"This will give us a little momentum man, we've been losing the last two games in the fourth quarter," Hudson said. "So to be able to go to overtime and win means a lot. We focused in, the defense played great, got a lot of turnovers, and this is a team win. Special teams played fast, and everybody was just fighting man."
What a game, and what an effort from the Silver and Black, especially Rodney Hudson. The team will get another crack at a "W" next week when they travel to Los Angeles and face the division rival Chargers.