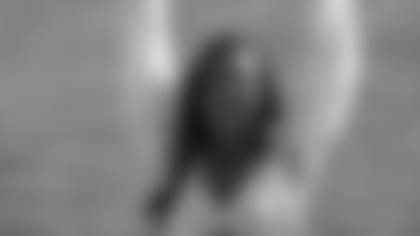 Raiderette Kelly participating in her first Pro Bowl as Raiderette of the Year.
Wow, what a whirlwind of a trip! I am glad to be back home, but am already missing my PBC teammates. Representing the Raiderettes at the Pro Bowl and in China were the best experiences of my life. As I look back on my trips, I can't help but think that none of this would be possible without the help and support of certain people.  
To my Raiderette sisters, thank you for making this such a memorable season (did I mention the Raiderettes were voted the #1 NFL cheerleading squad on CNBC?!). You all are beautiful, talented, and exquisite women and I look up to each of you in so many ways. Thank you so much Natalie and Anna, our 2011 and 2012 Pro Bowl Cheerleaders, for helping me feel prepared and for coaching me along the way  To my director and coaches, Jeanette, Shawna, and Laura, thank you for believing in me, for putting your trust in me, and for pushing me this entire year. To my family and friends, I appreciate your endless love and thank you for motivating me to pursue my dreams. Thank you to Raiderette alumni Meena of Stella and Dot for providing me with gorgeous jewelry to help glam up my outfits in Hawaii and China. To Destiny, of Destiny Monet Hair Design, thank you for making me glamorous and for styling my hair perfectly every game day. Thank you to the Raiders organization for striving for excellence and never settling for less. Last, but not least, thank you Raider Nation for being the BEST fans in the NFL and for your loyalty and commitment to the Raiders. I never knew that two weeks could change me so much for the better and feel truly blessed to have been given this opportunity. I will cherish this experience forever. 
Enough of the sappiness, it's time to get ready for 2013 Raiderette auditions! Game on Raiders!! See you in April!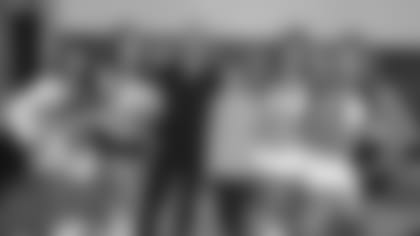 Raiderette Kelly and the other Pro Bowl cheerleaders on Super Bowl "Monday."
| | |
| --- | --- |
| | |
| Raiderette Kelly exploring Beijing. | |
| | |
Yes, NFL Super Bowl Sunday was as Super Bowls should be: lots of people, food, drinks, football players and cheerleaders. The only difference is that ours was at 6:30 AM on a Monday! During pregame, we performed a couple routines plus mingled with guests. Funny story: I met a man who worked at the embassy and was fluent in both English and Mandarin, so of course I had to impress him with the Chinese phrases I picked up. He was amused when I told him in Mandarin, "Hello! My name is Kelly," however, when I told him, "I am a Raiders cheerleader," he raised an eyebrow and glared at me. He then proceeded to tell me what I said in Mandarin translated into English was, "I am a cheerleader who likes to steal from people."  Awesome... I had been saying that everywhere I went in China and was thoroughly embarrassed. I still laugh out loud thinking about how crazy I probably sounded to the locals! 
Once the game started, we had "Vanna White" duty at each of the quarter breaks for prize drawings and such. We had a table with the three NFL players we've been with all week, front row seats to watch the game on one of two movie-sized screens. The 35 minute power loss at the Super Dome was unique, but our favorite moment of all was halftime when Beyonce brought down the house!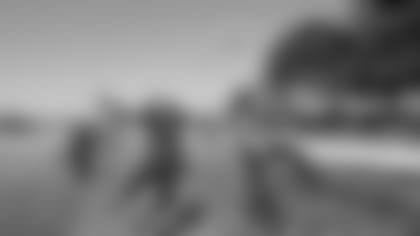 Raiderette Kelly and another Pro Bowl cheerleader enjoying their time in China.
After the game, we toured Tiananmen Square and the Temple of Heaven (largest of the four temples in Beijing). One last stop at the Silk Market on the way back cleared us out of our remaining Yuan/RMB money. Our last evening in Beijing was spent eating traditional Chinese food and reminiscing about our trip. I miss the great hospitality that the Kerry Hotel staff and the NFL staff showed us. It was truly more than I expected. We were treated like real VIPs. We felt safe and secure wherever we went, not just in the hotel. However, we were all ready to be home to see our loved ones.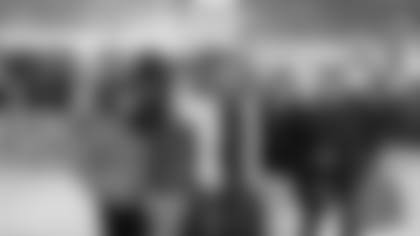 Raiderette Kelly and the other Pro Bowl cheerleaders with their guide at the Silk Street Shopping Center.


Sunday was our day off since we watched the Super Bowl on Monday morning. It snowed the entire day and was a whopping 20 degrees outside! We spent our time shopping in the Silk Street Shopping Center. It was six floors of endless stores filled with trinkets, clothes, jewelry, fabrics, and Chinese traditional souvenirs. Us girls were in heaven! The best part was that you could bargain and buy everything for an incredibly cheap price.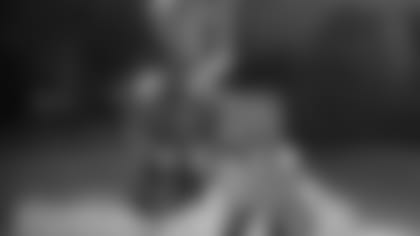 Raiderette Kelly and the other Pro Bowl cheerleaders imitating the statue in Beijing, China.

We then had a rehearsal in the hotel ballroom to run through formations and test the music to be prepared for our Super Bowl performances. The night ended with a meal at a quaint Italian restaurant. It was such a treat to have the day off to enjoy Beijing!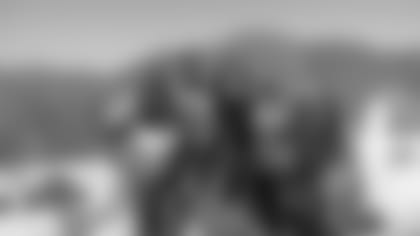 Raiderette Kelly and the other cheerleaders on the Great Wall of China.


Yesterday, we traveled to the Great Wall. The portion we visited was in the Mutianyu mountain range, about an hour and a half outside of Beijing.  Mutianyu translates to "green screen valley" because the valley below is very lush and beautiful in the springtime. That, of course, we didn't witness, however we did have yet another unseasonably clear and sunny day—neither cloud nor smog ruined the views. The Great Wall was absolutely amazing. I am so glad to say that I have experienced one of the world's greatest wonders. I am not so proud to say that I slipped on black ice and fell on the Great Wall of China though! Dancers are supposed to be graceful, however I am one of the clumsiest people on the planet.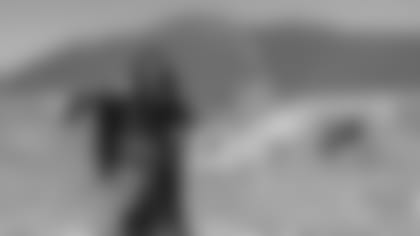 Raiderette Kelly on the Great Wall of China.
After purchasing some souvenirs in the market by the wall, we stopped at a local restaurant for lunch before heading home. We enjoyed local cuisine such as fresh-caught rainbow trout, awesome vegetables, the best sweet-and-sour chicken, kale, and donkey. Um, yes, donkey! The Chinese consider donkey meat of higher quality than beef, though I would dare say you couldn't tell the difference if they were prepared the same way. In case you are wondering, yes, there were many Shrek jokes as we ate. There was a darling Chinese girl at the restaurant who made silly faces towards me during our entire meal. After asking to take a picture with me, our translator told me the girl kept calling me "Barbie". I have never gotten that before, and was flattered beyond belief!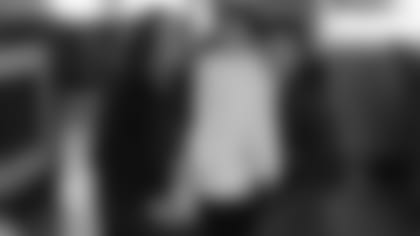 Raiderette Kelly with the young girl at the restaurant.
At night, we headed to one of the hotel restaurants for a Super Bowl reception.  We performed three times throughout the evening, intermixed with mingling, photographs and autograph signing.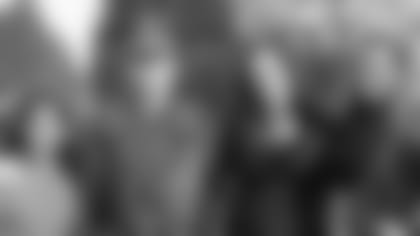 Wow, we just had the most amazing day. Our plans to do some touring courtesy of a guide hired by NFL China were trumped by an opportunity that presented itself at breakfast.  It turned out better than we could ever possibly have planned.

A gentleman named Jack Brewer approached us. He is an ex-NFL player who has a foundation that works (among other places) here in China. It involves using sports activities and sports stars as a conduit for tolerance, education and peace between different cultures such as the US and China. His foundation, The Brewer Group, does other things, but this is why he is in China right now. He is partnering with another foundation in this cause called China World Peace Foundation. Anyway, he invited us to a luncheon, a sort of summit meeting between a few organizations with similar goals and interests.
"Lunch" doesn't start to describe the event. There is a large compound here called the Peace Garden. Inside this compound, patrolled by Chinese government, are many homes and buildings plus a park surrounding a lake. The park/lake is full of boulders with plaques on them from different countries and all of them are signed by that country's president/leader or dignitary. The homes, all owned by one man, are donated to visiting dignitaries who use them as residences and, in some cases, actual embassies. The man who owns this compound is Dr. Ruo Hong Li.
Dr. Li is a former Chinese military officer, a former government official, and a former professor. He is the single, largest landowner in all of Beijing. To say he is a powerful man is an understatement. We were honored guests at one of his homes in the Peace Garden, along with Jack Brewer, several gentlemen representing other foundations, plus NFL players Reggie Bush and Akin Ayodele. We toured two of his homes—so many artifacts and memories; I think he has a photograph with every head of state in the world, not to mention artifacts dating back 1,000 years—and sat down to a four-course lunch.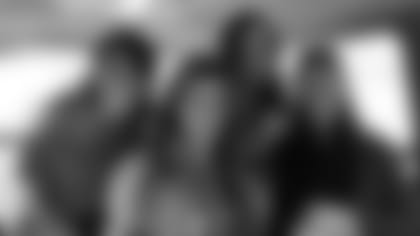 When we finally got back into the van, we all just stared at each other for a moment in silence. Then we all whooped saying how amazingly awesome that experience was. Prior to the trip, we were trying to find some excursion that would be unique, something not found in a tour guide or that you could look up pictures about on the internet. We truly had such an experience!
And we were not done yet. We had a media appearance at the hotel, followed by another reception at the US Embassy. Both of these included the same two players.  It was an incredible day to say the least. I dare to say that visiting the wall tomorrow might be anticlimactic in comparison.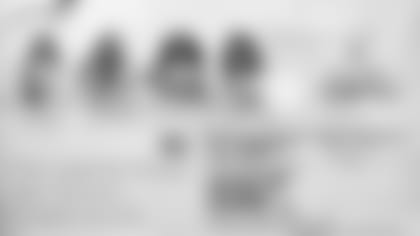 Photo on TV promoting the Super Bowl party with Raiderette Kelly.

Ni hao Raider Nation! I have finally made it to Beijing, China! I was selected from the Pro Bowl Cheerleaders to promote the NFL in China with my fellow teammates - Amy from the Miami Dolphins, Breanna from the Indianapolis Colts, and Marissa from the San Diego Chargers.
We took off from Hawaii early yesterday morning, had a layover in Tokyo, and made it to Beijing by 11 PM. We met up with our contact, Rya, who also traveled to Shanghai with my Raiderette teammates and director last November. I tried to impress Rya with my Mandarin phrases that Raiderette Jen taught me. I know how to say "hello," "my name is Kelly," and "Raiders cheerleader," but sound silly trying to do so.
Our 4.5 star hotel is the nicest I have ever stayed at. The view is amazing and I can't wait to explore. My roommate Amy and I got so excited when we saw our photos on TV to promote the Super Bowl party.
Today, we will be tourists and go sightseeing, then will meet with the media for interviews about our experiences as cheerleaders and the significance of the Super Bowl in the US culture. I am ready for the day!
All my love, Raiderette Kelly