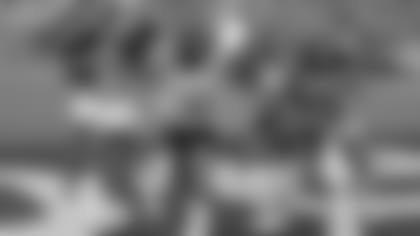 Raiderette Kelly performs for the crowd.Photo by Kirby Lee
It is my last day in sunny Hawaii! The Pro Bowl game was an unforgettable experience. We arrived and had a short practice to run through transitions and formations. After rehearsal, we literally had 15 minutes to get "game day ready". I am thoroughly impressed with how quickly we moved to get ready, but how little stress everyone had. Before the start of the game, we performed at tailgate parties, took pictures with fans, and signed autographs. I was so thankful for the perfect overcast weather to keep us cool. We then had only 10 minutes to touch up before our pregame show.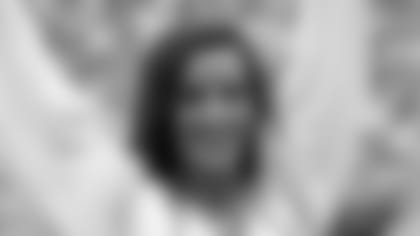 Raiderette Kelly in the Pro Bowl.
Photo by Jordan Fong
With a quick pep talk from our directors, we were ready and pumped up for the game.
Our pregame show was fabulous! Being able to perform in a huge production was unbelievable. Each cheerleader was individually introduced and free styled for an eight count.  I made sure to dance as big as I could, pop all of my moves, and represent Oak-town! One of the songs that Train performed was called "Mermaid" which helped get fans into the "island" mood. The hula dancers, ukulele players, and mermaid dancers performed beautifully too!
During the player intros, I got so excited to cheer on Marcel Reece. I was the last cheerleader in the tunnel and he made sure to do his signature "Reece" face towards me where he sticks out his tongue while running through. I was thrilled that he was selected and it was a great feeling to have someone from my team to cheer for. All of us cheerleaders teared up when Brian McKnight sang the national anthem complete with hundreds of military men and women on the field and a fly over by two helicopters.
The game was so laid back and unlike any game I have ever been to. Half the time we cheered, we were signing autographs and taking pictures with fans. During one quarter, my line danced on a stage that was in the second tier of the stadium. My "Raiderette Fan" teammates came over and cheered me on the entire time.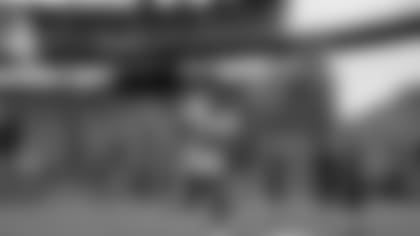 Raiderette Kelly cheers on FB Marcel Reece, the Raiders representative in the Pro Bowl. Photo by Kirby Lee
Even though the AFC did not pull out with a win, I had the time of my life. I have spent my two days off soaking in the sun, touring Hawaii with my teammates, and absorbing every moment spent with these amazing people.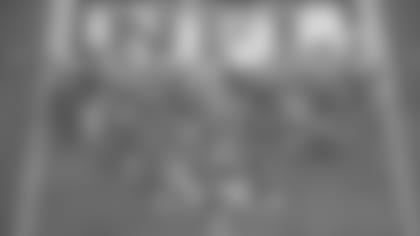 Raiderette Kelly and the Pro Bowl cheerleaders perform for the crowd. Photo by Kirby Lee
This week has given me so much time to reflect on my life and my experience as an Oakland Raiderette. As a child, my ultimate dream was to become a professional cheerleader. I am so proud to know that I have achieved my goal and have grown as a dancer, performer, and teammate. Thank you so much to my teammates, the Raider Nation, my coaches, and the Raiders organization for trusting, supporting, and encouraging me through this amazing journey. Off to Beijing I go! All of my love Raider Nation!!
---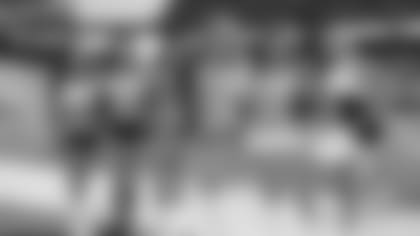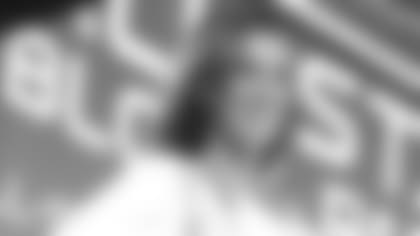 Updated Sunday, January 27, 2013
12:25 p.m. PT.
Raider Nation! It has been the busiest weekend of my life. Ohana Day was amazing. We practiced all of our dances and introduced ourselves to the fans. We even got to do a full run through of the pre-game show with Train, hula dancers, and ukulele players. It is going to be a fantastic and entertaining show.
We refreshened for the block party back at our hotel and were off again. Over 70,000 people were at the party. Yes, 70,000! My line performed six of our routines throughout the night. This was by far my favorite event of the trip thus far. My teammates and family followed me to each performance and were cheering me on the entire time. At one point, my teammates got the crowd to chant "Kelly! Kelly! Kelly!"
It was the greatest feeling ever. At that particular moment, I was so proud to represent the Oakland Raiders.  That was the hardest I have ever danced and worked that crowd to my fullest ability.  My face hurt at the end of the night from smiling so much.
It's game day baby! Tune in today at 4:00 p.m. PT on NBC to watch the Pro Bowl and check out me and FB Marcel Reece representing the Raider Nation! Alllloooohhhhaaa!!
---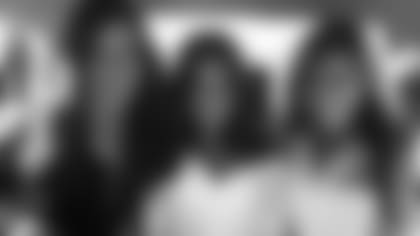 Updated January 26, 2013
11:15 a.m. PT
On our way to Aloha stadium for Ohana day! Over 4,000 people will be watching our practice game and performances. Thousands of kids from the island will also be bussed in for a special Play 60 event. I volunteered to speak with the kids about the Fuel Up to Play 60 program, and will motivate them to make healthy choices and exercise every day. Wish me luck!
---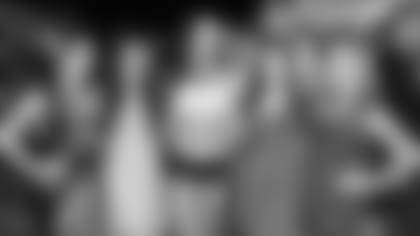 Raiderette Kelly with her Raiderette sisters Leia, Melissa, Marcy and Jen.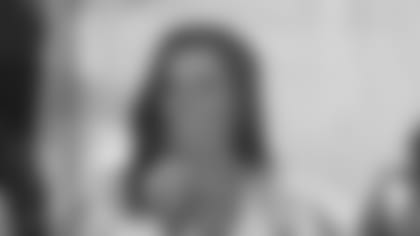 Raiderette Kelly introduces herself to the crowd.
Boy oh boy do I love the smell of fried food! The only commitment we had Friday was to perform at "Eat the Streets Pro Bowl." Over 50 food trucks were present at the event. They selected an NFL team and a food item from that city for inspiration. NFL players, mascots, and of course us cheerleaders entertained the large crowds. This was my line's first public performance together. Our dance was amazing and the crowd got us really pumped. I could hear my family and my Raiderette teammates, Marcy, Melissa, Jen, and Leia screaming for me during the entire dance!
We then each had to introduce ourselves and state what team we are representing. I was the very last cheerleader to introduce myself.  Right when I got the microphone, it was pandemonium!! I was shocked to see how many Raider fans were in attendance! The Raider Nation absolutely dominated and I felt so proud to represent the Silver and Black. Once all the performances had wrapped up, we signed autographs and took pictures with fans. Our night ended with dinner at the famous Benihanas. Tomorrow is a big day at the Aloha stadium for a dress rehearsal and the Pro Bowl block party. Time for my beauty sleep!
---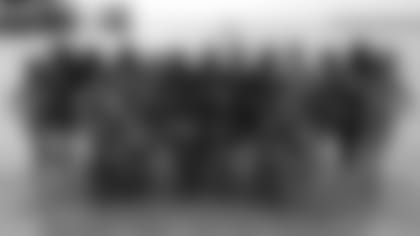 T.G.I.F!! Our directors gave us the majority of the day off! We spent the day working on our tans and bonding at the beach. I have met some amazing women and have made many new friends that I know I will keep forever!
One of our directors, Ron, is also a motivational speaker. I personally think he is better than Oprah! He has been encouraging us all week long to step out of our comfort zones and explore who we truly are. We have been referencing our lives as a story. It is through the relationships we build and the memories we make together that makes for the best chapters of our story. I was told from former Pro Bowl Cheerleaders that this experience strikes your core and changes you as a person. I am beginning to feel that transformation and am becoming more confident. I am trying  to live in each and ever moment and take in the beauty of this journey. Deep stuff, I know!
---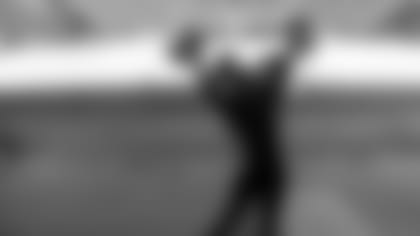 Raiderette Kelly at Aloha Stadium.
Early this morning, we headed over to the Aloha Stadium to practice our pre game show on the stage. Even though it was pouring rain and we were dancing in massive puddles that formed on the field tarp, we got the job done and feel more confident about our performance.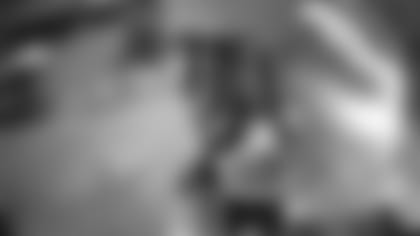 Kelly poses with a Pro Bowl trophy statue.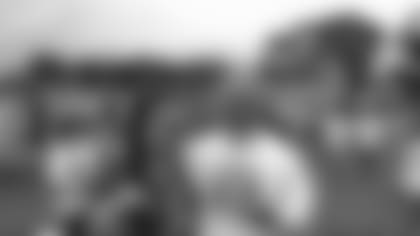 Raiderette Kelly at the Play 60 event.
Right after our four hour rehearsal, my line was chosen to teach a dance clinic for a Play 60 event at a local military base middle school. The event also included football drills, flag football games, and workouts all led by the Pro Bowl football players. This event was right up my alley! I am an elementary school teacher and love working with children, so I volunteered to teach the clinic. I was so pumped because I have implemented NFL Fuel Up to Play 60 at the school I work at and was excited to experience my first official Play 60 event.
Immediately after we opened the shuttle doors, the kids were jumping up and down and screaming for us. They were beyond excited to see "real cheerleaders." At that moment, we all truly felt like super stars! I taught about 40 girls a sideline that we learned, but made it simplified so they could learn it in an hour. The girls worked very hard on the dance and had a great time. The Play 60 event was a huge success and I am over the moon that I got to participate in such a wonderful program. It is now time for my "power nap" and I will check back in with you soon!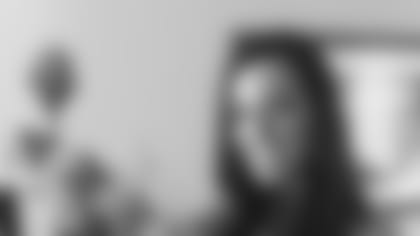 Raiderette Kelly receives flowers from her sisters.
Happy Thursday Nation! Last night before heading to the NFL luau, I was surprised with a beautiful bouquet of Hawaiian flowers for good luck from my Raiderette sisters Anna and Natalie, who were both former Pro Bowl Cheerleaders. It made my day so special! I look up to Anna and Natalie so much and am working to live up to the expectations they set as Pro Bowl Raiderettes and I hope to make them proud this week.
The luau was a blast! We had delicious Hawaiian food, enjoyed watching hula and fire dancers, and even got to meet our Pre Game entertainer, Pat Monahan from Train! It was such a fun and relaxing night, and one that was much needed after all of our grueling rehearsals.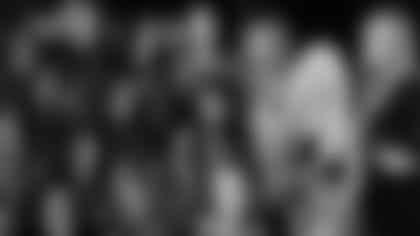 Pro Bowl cheerleaders with Pat Monahan from Train
---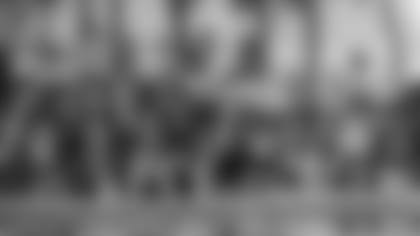 Updated January 23, 2013
5:45 p.m. PT
Exciting news today! Our Pro Bowl Cheerleader photo card was released today!  It now officially feels like I am not dreaming and this experience is actually happening. We had a four-hour rehearsal today to clean and perfect all of our routines.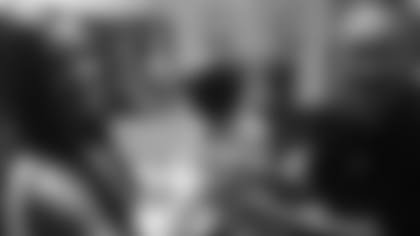 Following our practice, we headed down to get sized for our Pro Bowl rings. It just seems like one exciting activity after another. Going to hit the beach on my hour break then I'll be headed to the NFL VIP luau. Check back in with you soon Raider Nation!
---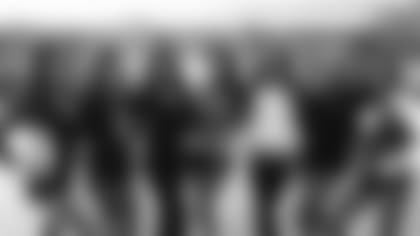 Raiderette Kelly with her AFC 2 line for the 2013 Pro Bowl.
Great news Raider Nation...I survived our eight-hour rehearsal today! We learned our pre-game introductions, halftime show that will be performed with the band Train accompanied by about 400 hula dancers, and were grouped into our game day lines. I am a part of AFC 2 (the taller girls' line). All of the girls in my line are super sweet and I was surprised with how well we meshed in such a short period of time. It feels like I have known them forever! I am already feeling the soreness coming on, but will push through it tomorrow!
Raiderette Kelly with Raiderette Alicia in Hawaii.
I also ran into a couple of my beautiful teammates at an appearance, Marcy and Alicia today. It is the best feeling to know that I have such loving teammates who are supportive and are cheering me on throughout this journey. I am feeling truly blessed and know that this is going to be a life changing experience. Until tomorrow Raider Nation!
---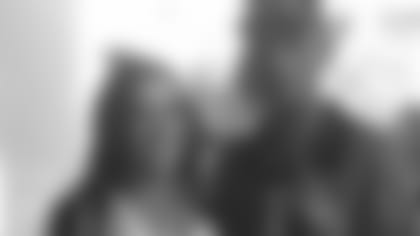 Happy Tuesday Raider Nation!
This morning, we got beautified and glammed up at the crack of dawn. We had an awesome welcome breakfast and meeting with our directors and Pro Bowl staff.
Then we headed to the hotel pool area for our official Pro Bowl Cheerleaders photo shoot.  It was amazing to be surrounded by so many gorgeous women and admire other uniforms.
Right after our shoot, I ran into our very own Hall of Famer Willie Brown! It was awesome to see a familiar face in a sea full of people. Off to my eight-hour dance practice. Wish me luck!
---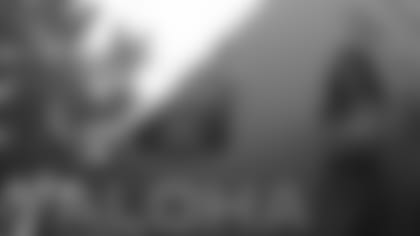 Aloha from Hawaii! My flight was speedy as can be, but I was anxious and excited the whole time. I met a season ticket holder on my flight who helped prep me for my experience as he has been to 15 Pro Bowl games! He told me about how big the Raider Nation is here in Hawaii and all of the different exciting endeavors I will experience. Upon arrival, I was greeted by security complete with a sweet-scented lei necklace, and met up with a couple other cheerleaders who were also ready to hit the beach.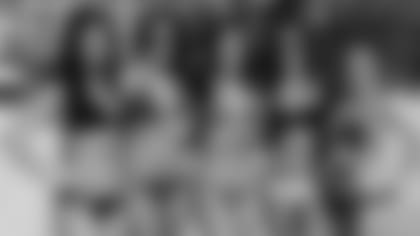 Raiderette Kelly (middle) enjoys the beach with some of the other Pro Bowl cheerleaders.
We checked into our gorgeous resort, made a quick change, and spent several hours getting to know each other on the sandy shore. Once all of the other cheerleaders arrived, we enjoyed dinner together and practiced all of the routines informally numerous times to prepare for tomorrow. Tomorrow is a big day for us filled with photo shoots, meetings, and an 8-hour practice to clean and perfect our sideline routines. Time to get my beauty sleep!
---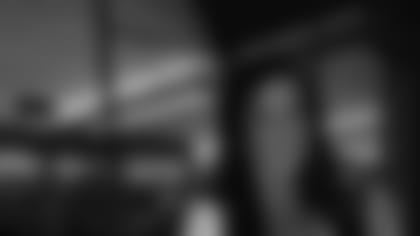 *Raiderette of the Year Kelly is representing the Raiders in Hawaii at the Pro Bowl. She'll be chronicling her experiences all week right here at Raiders.com. *
Good Morning Raider Nation! This is Raiderette Kelly here to say I am officially on my way to the beautiful Honolulu, Hawaii for the 2013 Pro Bowl!
I am so excited, I don't know how I am going to stay still in my seat for 5-6 hours! See you soon Hawaii!
All my Raider love, Raiderette Kelly
---
The 2012 Raiderette awards were presented during halftime of the Raiders final home game December 16. Kelly just completed her third season with Football's Fabulous Females.
"I'm most looking forward to meeting all the other girls that are coming from other teams," Kelly said after earning Raiderette of the Year honors.