I'm back home, unpacking and reflecting on this past week. It was absolutely amazing and impacted me more than I ever thought it would.
The night before the game was the Pro Bowl All-Star Block Party where 40,000 fans were expected.  Imagine the nerves! My group was sent to a few VIP parties and then to a few stages at the block party. This was one of my highlights of the week! My group was featured as the closing performance for the evening on the main stage. We performed and did a question and answer session. I represented for the Raiders to the fullest! Then it was off to bed for beauty rest.
Game day was a whirlwind. We started with our team breakfast and then headed to the stadium. We visited two tailgate parties and were met with rain, not unusual for the Raider Nation. Luckily, it cleared up for game time. The game started with an introduction of each cheerleader, followed by the players, and then it was the big pre-game show with The Goo Goo Dolls! The show included hundreds of high school cheerleaders, local children hula dancers and the Pro Bowl Cheerleaders. The rest of the game was a blast and it was so awesome to hear, meet and see all of the Raiders fans in the stands.
I'm so sad that the week is over, but so happy to have been able to experience the Pro Bowl. Thank you to all the Raiders fans that came out to Honolulu and showed your support. You all definitely showed which team has the best fans. Go Raiders!
---
Aloha Raider Nation! The day is here! We're all here in our dressing room getting ready.  We just finished our morning rehearsal and now its off to the tailgates.  Don't forget get to tune in and watch out for the pregame performance by the Goo Goo dolls and the Pro Bowl Cheerleaders!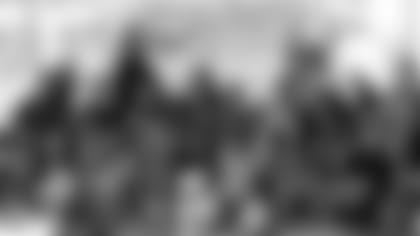 Saturday, January 29, 2011
Hi everyone! This experience is going by so fast it's hard to believe.  Yesterday I was sent to Shriner's Hospital to visit with kids and their families.  In the evening we were off to the Ala Moana Mall to perform with the NFL Japanese Cheerleaders followed by a meet and greet.  So many Raider fans showed up, they were the most fans from any team there.
Well I'm off for a long day again, filled with appearances and practice at the stadium.  The day is almost here, wish me luck!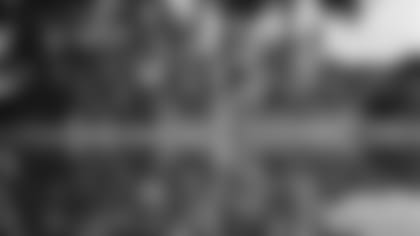 Thursday, January 27, 2011

Hey Raider Nation!  Had so much fun at our team photo shoot at sunset Wednesday night! We then had time to have fun at the Pro Bowl Luau Party.  Thursday morning we were taken to Aloha Stadium for a team practice.  And then it was time for AFC West to get a little beach time in!


Now it's time for me to get ready for our team dinner tonight.  Got to go Raider Nation, wish you were here!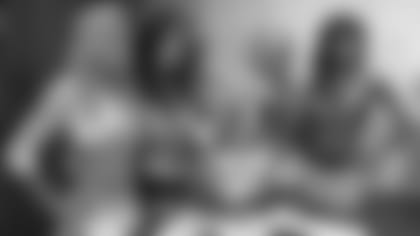 Raiderette Natalie poses for a photo with cheerleaders from Miami, Dallas and New Orleans at a Pro Bowl press conference. AP Photo.


Wednesday, January 26, 2011

I'm here in beautiful Honolulu, Hawaii, and all settled in. I arrived on Monday with the Pro Bowl cheerleaders from the Chiefs and 49ers. The next morning we had our first practice, followed by my first event at the Pro Bowl trophy press conference.
With the Dallas, New Orleans and Miami cheerleaders, I escorted the trophy to its home for the week at a local restaurant. We then joined the rest of the ladies at practice to catch up on what we had missed.
After our day of practice, it was time to get ready for our group photo shoot at sunset. It was so amazing to have us all together representing our team colors!  It was a long day and we accomplished a lot. This morning we had another round of rigorous practice.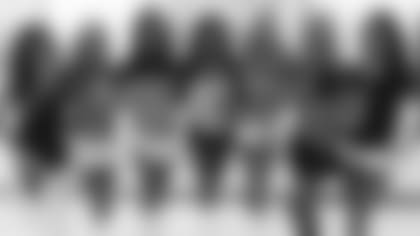 Raiderette Natalie poses for a photo with some of her Pro Bowl teammates before heading out to a community event in Honolulu, Hawaii.
After my quick lunch break, it was back to practice, followed by a visit to a local hospital. They keep us busy, but it is well worth it.
That's all for now Raider Nation! More pictures to come soon...