Raiderette director Jeanette Thompson calls out the numbers of the finalists. Photo by Tony Gonzales.
The Hilton – Oakland Airport was the site of preliminary auditions for the 2011 edition of the Oakland Raiderettes. Hundreds of beautiful young women filled this year's applicant pool. All vied for a spot in the final auditions that will be held next Sunday, in which they will match their skills against returning Raiderettes.
For the preliminary auditions, though, one could sense a nervous, yet eager anticipation among those waiting to register and receive their official call numbers.
"Oh yeah, I'm definitely nervous and can feel the pressure, but I'm also filled with lots of positive energy [for these tryouts]," responded Jessica of Brentwood, Calif.
Added Christina of San Jose, Calif., "I'm anxious, but excited and confident." She explained that her sixteen years of dance experience helped overcome any concerns with stage performances.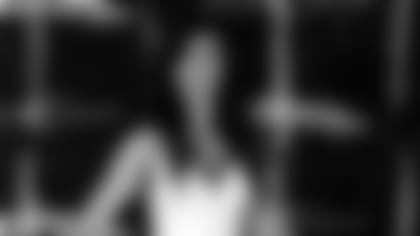 Matilda stands on the stage for her audition. Photo by Tony Gonzales.
After registration concluded, the candidates were organized into groups before their appearance in front of a panel of judges. Nicole, Mina, Laurie and Serrita, accomplished former Raiderettes, and Raiderette choreographer and coordinator, Shawna Zimmerman, assisted in registration and the interview process. Each interviewee told the judges a little about themselves and posed for photos and video. Each group returned for a collective photo shoot while the next set of hopefuls awaited their turn.
"All we can do is play the waiting game," stated Shanika, a confident former Raiderette from 2008-2009.
During the nerve-racking downtime, prospective additions to the Raiderettes called family with updates and socialized with each other in the ballroom. Talking with one another helped mitigate worries and eased the tension.
Shanika, echoed this sentiment. "The more you connect with people around you and get their take on things, it helps to alleviate some of your nerves and pressure."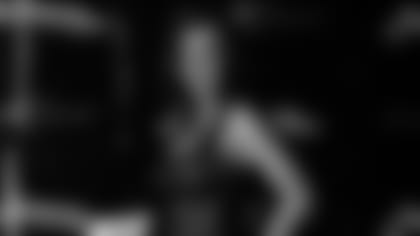 Jessica gets her turn to stand in front of the judges during preliminary auditions. Photo by Tony Gonzales.
Raiders.com later caught up with some of the lesser experienced participants. They described their thoughts on their respective performances on stage.
Matilda, a former business woman on Wall Street, was pleased with her interview. "I think I did well. It's my first time trying out for Raiderettes, but once you walk in front of the judges and they see your face, it all comes together," Matilda explained.
Jessica, a local hopeful, was humble and poised and even offered some words of advice. "I can't be certain, but I gave it my best. I just tried to present myself as a well-rounded individual," said Jessica. "For the remaining girls out there, smile pretty, make eye contact with the judges and just be yourself."
Illustrating the ethnic diversity amongst this year's candidates was Kisato, a native of Tokyo, Japan. Fluent in Japanese and French, she mentioned her unease about not being fully fluent in English.
"I was so nervous at first. It can be hard for me to speak clearly. I hope [the judges] can see past that. I want to make it to the finals," Kisato said.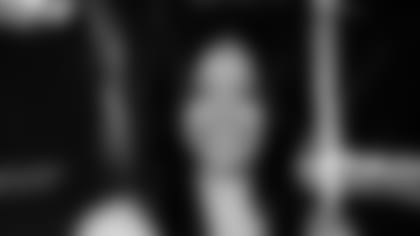 Kisato traveled from Japan to try out for the Raiderettes and smiles for the judges and the camera. Photo by Tony Gonzales.
After a much needed lunch break, the day resumed with the judges conducting the remaining interviews. For others, the waiting continued.
A tired and nervous Ricquel of Oakland said, "I wish I brought a book [to pass the time], but I'm hanging in there. I try to stay encouraged by the mentoring of friends who tried out in previous years."
New Orleans-raised Ashley, who is an experienced participant of Raiderette auditions, offered some of that support. "I'm definitely more comfortable having reached the finals before. I try to help out the other girls in any way I can."
Danielle was another audition veteran who provided a guiding presence. "I tell the girls that the nerves never go away, but you just need to be able to stay strong and not take the judges' decisions personally," said the UCLA graduate. "It's an emotional roller coaster, but it'll be okay."
Late in the afternoon, the air of restless excitement and anticipation returned in full force as the 2011 hopefuls awaited the results. Minutes later, Raiderette director Jeanette Thompson thanked all of the candidates and revealed the judging panel's selections for the final round.
For Danielle, the results were a dream come true, even though the road to becoming one of Football's Fabulous Females did not end there.
"In the next round, I'm going to stay true to myself and dance my heart out. I have been dreaming of being a Raiderette for so long. I really hope that this year is the year," Danielle said.
Unfortunately, the road did end there for many of the participants in 2011. "That is the difficult part of this job," said Thompson. "There are so many well-spoken and beautiful women. It comes down to the individual that draws our attention from the moment she walks in the door."
As for the many qualified young women moving on, they will learn a dance routine in the next phases of the auditions taking place on Tuesday and Thursday.
They will perform that routine and compete against incumbent Raiderettes for a spot on the roster Sunday April 17.