Raiderettes Kathleen, Anna, Natalie P., Natalie M,. Asha and Angel visited U.S. Navy sailors in Japan for Super Bowl festivities. Raiderettes Natalie P. and Kathleen checked in with blog entries from the Far East.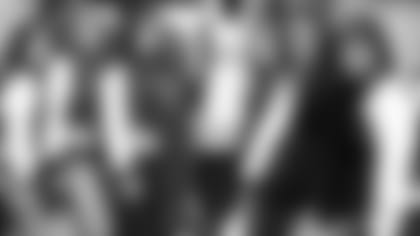 Raiderettes Kathleen, Anna, Natalie P., Natalie M., Asha and Angel pose for a photo during a Tokyo, Japan, shopping trip.
February 9 | 5:53 p.m. PT
Hey Raider Nation! It's Natalie P. here with my last blog from Japan. What a day we had yesterday with our tour off base. We were picked up bright and early by our tour guide and drove into Tokyo. It was smooth sailing until we hit traffic but it gave us time to take in the skyline and unique architecture.
The first stop was the Meiji Shrine where our guide taught us proper etiquette for prayer there. Then it was off to Harajuku for some shopping! We got all of our souvenirs, and of course, a few things for ourselves...a very successful shopping trip needless to say. Next stop was a japanese lunch at Tokyo Tower and up to the top observation deck to take in the view. Not a good idea to up there if you're scared of heights.
There was so much more to do with so little time. It was the end of our tour and time to go back to the base. What a packed little trip we have had that is coming to an end. We are all packed and ready for our pick up. We have our flight home this evening so we are off to lunch and then to the airport. Everyone here has been so nice to us. It has been such a short time here but Japan has certainly made an impact on us all. We will miss you!
---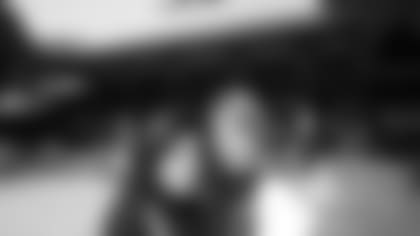 Raiderettes Kathleen and Anna pose for a photo at the Meiji Shrine during their tour of Tokyo, Japan. 
February 9 | 2:00 a.m. PT
This is Raiderette Kathleen back to report on another awe-inspiring day in Japan! Today was a day full of pictures and sightseeing.
Upon arriving in Yokosuka late Monday evening, Anna and I were reunited with our Raiderette sisters Asha, Angel, Natalie M, and Natalie P. After a nice dinner with plenty of reminisicing on the day's events we were ready to explore the city of Tokyo.
Our day began with a trip to Starbucks, as we fueled up for the exciting sights in Japan's capital city. Our tour guide, Kazumi, brought us to several of the most famous locations in all of Tokyo including the Meiji Shrine, Harajuku Street, and the Tokyo Tower. As we collected pictures and souvenirs at each of the stops along our tour, we also gained insight into the local traditions and customs. At the Meiji Shrine we learned how to pray, along Harajuku Street we picked up traditional Japanese gifts, and on the highest observatory deck of the Tokyo Tower we took in a full view of Tokyo's skyline.
Our day in Tokyo wouldn't have been complete without local cuisine, which we enjoyed throughout our many stops. There was something new to see and to try around every corner - which of course made for a perfect day in one of the world's most incredible cities. And although we may be several thousand miles away, the Raider Nation was ever present as we spotted Oakland Raiders sweatshirts in one of the stores along the busy shopping district.
As our trip comes to a close it is important to note, that although we are sad to leave , we can't wait to get back to share our experience with you - the world renowned Raider Nation! Thank you for taking a peek into our travels...we look forward to seeing you at the Coliseum!
---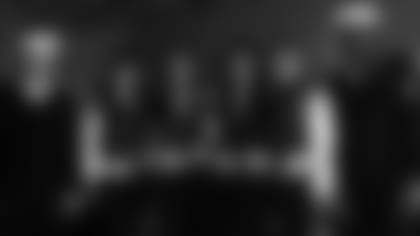 *Raiderettes Angel, Asha, Natalie P., and Natalie M. pose for a photo with a couple of U.S. Navy sailors in Japan.
Yokosuka Naval Base
Day 2 - Monday, February 8 - 3:45 p.m. PT*
Wow, what a day that started off with a bang! What we thought was a wake up call was actually a fire alarm and that got us up. Then we were off for the "meet and greets." We were taken all over the base during the course of the game meeting officers, sailors and staff. Everyone has been so excited and appreciative to see us which was very humbling.
After an awesome game, we were off to lunch and a little rest. The jet lag has been taking its toll, but nothing a little coffee can't fix. Next was a tour on the
USS George Washington*. The ship holds a crew of 5,000 people so we only got to meet a fraction of them. The commanding officer took us up 10 flights of stairs up to the flight tower where the ship's navigation and steering takes place. We all got to take turns sitting in the captain's chair for a photo op for a special treat.
Now we are back in our rooms getting ready for dinner on the base. It has been such a wonderful experience learning about life here on the base but we are anxious for our day of sightseeing in Tokyo tomorrow. Until then...
---
Good Evening Raider Nation! Anna and I are back to fill you in on our action packed day at Naval Air Facility (NAF) Atsugi, Japan.
We started our day bright and early as we were given a call time of 6:30 a.m. We arrived at Club Trilogy - the location of our Super Bowl Event. The doors opened at 5:30 a.m. with breakfast to kick off "Super Bowl Monday" and already the families and personnel of NAF Atsugi were there ready to greet us. To our excitement the Raider Nation was well represented and we took a group photo to capture the memory. Anna and I were asked to speak on the radio to advertise the event and give a feel for what the day had in store for those who might attend.
During the event we met with dozens of personnel as we signed photos, drew raffle tickets and joined two sailors on stage who won VIP seating. We were also introduced to the commanding officer, Captain Eric Gardner, who thanked us for our visit and presented us with special coins specific to NAF Atsugi.
After we saw the Saints capture their Super Bowl victory it was off to meet VAF-102. This squandron at the Naval Air Facility Atsugi is are known as the Diamondbacks and they gave us a look into the life of an F-18 pilot on base. This up-close look included a tour of their building, a chance to see one of their aircraft and a chance to fly in their flight simulator. After a few attempts to land our plane on an aircraft carrier, a few inverted spins and a try at night flying, Anna and I moved on to our final event for the day.
Before leaving NAF Atsugi, we held a youth clinic at the Youth Center on base. During the clinic, the children were able to ask us what it is like to be an NFL Cheerleader, and many asked what is was like to be a part of The Oakland Raiders. After we answered everyone's questions we took pictures with the families who attended, and told them we hoped to see them at the Oakland Coliseum one day soon!
The visit to NAF Atsugi was an amazing day filled with wonderful memories. At the end of the day we said goodbye to our contacts on base, and departed to meet our fellow Raiderette sisters at Yokosuka.
We hope you join us tomorrow to find out about our tour through Tokyo!* *
This is Raiderette Kathleen reporting to you along with Raiderette Anna during our visit to Japan and NAF Atsugi.
Our trip began on Saturday morning when we met with Raiderettes Angel, Asha, Natalie M. and Natalie P. at San Francisco International Airport where we boarded our flight to Japan. Although our day was an early one, the excellent service during our 11-hour flight gave us our first taste of Japanese hospitality. We were occupied from start to finish with movies, magazines, and even a game of interactive Tetris.
Upon landing in Japan, we made our way through customs and met with our contacts who brought us to our respective bases. Anna and I arrived at NAF Atsugi and headed immediately to sleep so we could be ready for our Super Bowl Event.
---
Yokosuka Naval BaseDay 1*
*Sunday, February 7 | 6:06 a.m.
After 13 hours of travel, we are finally here! Yokosuka Naval Base will be our home for the next few days and it has not disappointed.
As soon as we arrived here on Sunday evening, we settled in our mini-apartments. Next was dinner at the Officer's Club, so we were dressed to impress.
With the 17-hour time difference, we have been awake for almost 24 hours straight. That means we are all ready for a good night's rest. While you all are gearing up for Super Bowl Sunday, we are doing the same except at 8:00 a.m. Monday. We are expecting a full day tomorrow all over the base.
Just because we are so far from home, the Super Bowl spirit is not forgotten. It's off to bed now so be sure to check in for more about our adventures in Japan.