El profundo Michael Huff y el esquinero Nnamdi Asomugha posan para la foto con un grupo de niños antes de la proyección de la película The Express: The Ernie Davis Story. - Allan Yuan
El martes 16 de septiembre, el esquinero Nnamdi Asomugha y el profundo Michael Huff de los Raiders, acompañaron a 250 niños del Área de la Bahía a una proyección privada de la nueva película de Universal Studios, The Express: The Ernie Davis Story.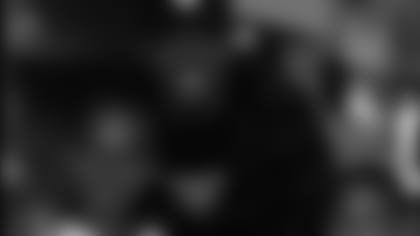 El esquinero Nnamdi Asomugha posa para la foto con un par de jóvenes cinéfilos. -Allan Yuan
Antes de empezar la película, Asomugha y Huff interactuaron con los niños posando para fotos y firmando autógrafos.
Cuando se le preguntó a Huff que significaba formar parte de un evento como este él respondió, "Pienso que cualquier oportunidad que tengas para dar algo a la comunidad y a los niños hay que aprovecharla, porque si logras ayudar a uno de cada 100, es una persona más que has ayudado."
Esta fue en definitiva una gran oportunidad de ambos jugadores para involucrarse en la comunidad y Asomugha se sintió muy complacido de ser parte de tan especial evento. "Creo que estar involucrado en algo como esto es algo especial porque el mensaje que la película le transmite a los niños es muy importante para ellos, el poder continuar enfocados en lo que están haciendo y aprovechar al máximo las oportunidades,' dijo Asomugha. "Nunca sabes cuanto tiempo tienes así que tienes que aprovecharlo al máximo."
"Regal Entertainment Group esta orgulloso de relacionarse con equipos de la NFL para ser anfitrión de estas proyecciones de la película The Express y que puedan ser disfrutadas por organizaciones juveniles locales," dijo Dick Westerling, vicepresidente de mercadeo y publicidad del Grupo Regal Entertainment. "Estos jóvenes seguramente disfrutaran esta emocionante película y aprenderán lecciones valiosas de la vide e historia de Ernie Davis."
La película está basada en la historia verdadera de Ernie Davis, el primer afro-americano en ganar el Trofeo Heisman. Davis ayudó a la Universidad de Syracuse a ganar su primer campeonato en 1960 durante una época de descontento racial. Davis fue seleccionado en el Draft de la NFL en 1962 como la primera selección en general y se estaba preparando para jugar con los Browns de Cleveland cuando se enfermó de leucemia. Davis murió posteriormente debido a dicha enfermedad. La película la estelarizan Dennis Quaid, Rob Brown y Charles S. Dutton.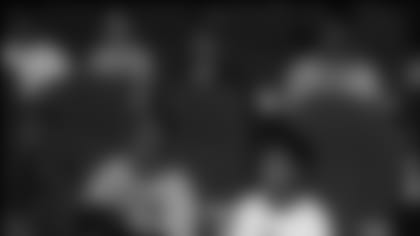 Niños del Área de la Bahía se preparan para ver la proyección especial de la película The Express: The Ernie Davis Story. -Allan Yuan