2009 Raiderette of the Year Cole (right) poses for a photo with Holly of the Colts (left) and Amanda from the Saintsations.

Finally the event we have all been preparing for is here! We all met in the lobby of the hotel at 7 a.m. to get fitted for our Pro Bowl rings. Then we went to enjoy a team buffet breakfast. We had about an hour after breakfast to freshen up, and pack for the stadium, and we were off.
The vibe on the charter bus was a combination of nervousness and excitement. My group huddled together for a run-through of game day, and a group prayer. We were all a little emotional. We had built such a strong bond in such a short amount of time, and the journey was coming to an end. We reminded each other that this was our moment, to live in the moment, and to "Own the Moment," because we will never get this moment back. Take it all in and have fun. We grouped hugged it out, and got fired up and ready to go!
We arrived Sun Life Stadium and headed to the locker room where we all captured the moments as much as we could with pictures. I had to quickly change into my uniform for an interview. Back to the locker room for a team rehearsal of our pre-game performance. We freshened up, and the next thing you know it, we were stepping out of the locker room for the game. The energy was electric.
We had the most fun performing, and nailed our dances. The mascots were so silly, they would visit us periodically on the sidelines, and play around. They are definitely great entertainers, and added a special humor the overall experience.
The game flew by too fast. We counted down the final seconds, and all gathered on the field for a good cry, team hugs, and our final team photo.
I left with a great feeling of pride and accomplishment. I will Cherish this experience for a lifetime. It was with great pride, poise and confidence I represented the Raiders organization. It has been the most excellent decade of my life. Thank you Al Davis, Amy Trask, Laura Jollay, Karen Kovac, the Raider Nation and my Raiderette sisters.
A special thanks to my teammates! This has been such an amazing season, and I thank you all for your love, support and friendships. I recognize that it is your support that enabled me to reach this dream. Thank you, thank you, a hundred times thank you. It was the perfect way to finish my professional career as an NFL Cheerleader.
---
Saturday January 30th, 2010*
5:30: The alarm clock goes off. Shower, pack, and in the lobby by 7:00 a.m. to leave at 7:15 for today's events.
Today is a day for the fans. They get to come out and get to watch us practice, they get to watch the players practice, and it is just an overall up close and personal day with the fans. We entered the trailer behind the stadium which had breakfast waiting for us.
We ate quickly, freshened up and then headed out for a meet and greet with the fans. Then we took the field. NFC performed first, and then the AFC. We took a group photo then took our corners on the field, like we would game day. This was a good practice for us because it allowed us the time we needed to communicate as a unit and decide how we would function on game day. I got to practice calling plays (dances) as the captain, and overall we accomplished all of that on the spot right then and there. It might have appeared to the fans that we were performing and already had everything worked out because we were in full uniform but we were literally practicing and working out all the loose ends on the spot.
It was so great, I was so impressed with the group of ladies I had the privilege of working with. We posed for pictures, interviewed with the media and then we formed a tunnel for the players to be introduced. As the Pro Bowl players were introduced they walked through our tunnel and entered the field that was covered with media. Immediately after, we took our positions on the field to perform our pre-game routine. The music started and everyone was still on the field! We literally were dancing through the crowd. eople started moving,of course, once they realized they might get hit with a pom pom. It was amazing to finally perform together for the first time as a team.
Off to the next stop. We loaded up our tour bus, made a pit stop for lunch, then back to the hotel to change for practice, and finally off to Sun Life Stadium. This was it - our official last rehearsal before the big game. We learned our marks for our player tunnels, practiced all of our sidelines, and pre-game. At 7:00 p.m. we arrived back at the hotel and we had the rest of the evening free. We were all pretty exhausted, so the journey to South Beach was out of the question. Most of us had family and friends that flew out to support us. My mom and brother arrived that morning, and then drove to my hotel to meet me for dinner. It was so great to share with them my experiences, and show them pictures. After dinner they took me back to my hotel and I introduced them to some of my teammates and the mascots that were there in the lounge area, and we got to meet their families. Shortly after, I called it a night. I needed a good night sleep for Game Day!
---

Cole poses for for a photo with her Pro Bowl teammates. AP Photo.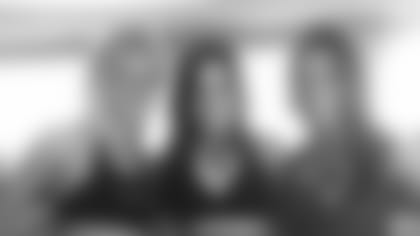 Friday, January 29th, 2010*
7:00 a.m. wake up, five hours of sleep.
Packed all of our things for another eventful day. At 9 a.m. we shuttled to the Miami Dolphins facility. We arrived, ate a quick breakfast and got to work. We rehearsed in the bubble on the turf and ran through all of our sideline dances, then had a break to meet with some visitors - Japanese cheerleaders! This was so exciting for me because I had met these ladies before when I went on the Tokyo tour to promote the Super Bowl last year and they remembered me. Jiro San, the coordinator for their trip to the Pro Bowl, also coordinated my trip to Tokyo. It was so great to see familiar faces. It really energized me and lifted my spirits.
Back to rehearsal...we learned our pregame formations and then our pregame routine. After a long strenuous rehearsal that took tons of energy out of us, they planned a treat for us. We had a guest speaker, Maria Giannini with E2K sports. Maria has been the director of the Pro Bowl for the 20 years it has been in Hawaii, and shared with us the traditions and the history of this great event. Maria was also my director for my Tokyo tour. We grew close during those few weeks. She has such a powerful, positive presence, a huge heart and she just feels like family. So, all she had to say was one word, congratulations, and I started crying like a little baby. By the end of her speech we all were crying, it was an emotional moment that we all shared, and we needed to let it out. There was so much, time, and preparation leading up to this moment, and it was all flying by so fast. When she spoke, time stood still. She told us to stop and take a deep breath. savor the moment, live in the moment, and own the moment because you will never get this moment back. It's a once in a lifetime moment, and for some of us it will be our last game as an NFL cheerleader. So, make it special, make it count and most importantly have fun!
After our four-hour rehearsal we ate some snacks on the way to our next event. Some of the girls taught at the Japanese clinic and the majority of us went to the battle of the beauties beach competition. The events in the competition were: tug of war, volleyball, a relay race, and flag football. All the events were AFC vs. NFC. between events there were dance performances and autograph signings and media interviews. My group danced first, then we had an autograph/media interview session. I saw Jeanette Thompson and Aubrey Aquino - my former teammates who are successful broadcasters. We did interviews and caught up real quick. I quickly changed into my battle of the beauties bathing suit, then ran to the beach with Holly from the Indianapolis Colts just in time to cheer our team, the AFC. We had already won the first two events, tug of war and volleyball. NFC won the relay race. The final event was flag football. I was the QB for the AFC. The coaches were all current and former NFL players. This event was by far my favorite because it was just playing with the girls, and it is fun to see everyone's competitive side come out.
After the battle of the beach beauties ceremony, AFC1 changed back into our team uniforms for the Japanese cheerleaders clinic reception at the Ocean Manor Resort. We arrived at the venue and were able to get comfortable in the spa area of the hotel. We ate an amazing sushi dinner they offered at the reception, mingled with the guests, took photos, and signed autographs. The Miami Dolphins cheerleaders attended the event too. It was like a mini-reunion for our Tokyo tour - Fabiola (Miami Dolphins), Jiro San, Yasu San, Maria Giannini and all the Japanese cheerleaders.
After the event we headed back to our hotel to change for another evening rehearsal at the Dolphins facility. Emily surprised us with pizza! We practiced until 11:30 and arrived back at the hotel around midnight and packed our bags to prep for the next day, showered, and went to bed by 1:00 a.m.
---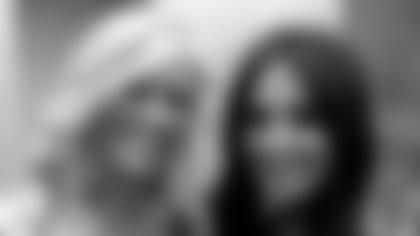 Up early, 6:45 a.m. call time. My roommate, Meredith from the Jets, had a 5:30 call time! So her alarm clock went off at 4 a.m. I tried to sleep longer, but I was up at 4:30 a.m.
I drank some coffee to wake up, and headed to our live on-air appearance at a local news/ entertainment program in South Florida. Randi (Houston Texans), Lindsay (Denver Broncos) and I were interviewed and basically we were promoted our fashion show, our battle of the beauties beach competition, and the Pro Bowl game. The Jacksonville Jaguars and the Minnesota Vikings mascots came with us, so it was an extra fun and entertaining event.
We arrived back at the hotel around 8:30, with just enough time to eat and round up my group (AFC1) to head to our next appearance. We visited a performing arts middle school. So you could imagine the quality of their performance theatre. It was amazing! So many lights, great stage and sound system. We performed two dances on stage and then stayed to sign photo cards and take group photos. The kids were so excited and the faculty was very hospitable.
We headed back to our hotel with enough time to change and organize our things for the remainder of the day. We pretty much had to pack our lives in our Pro Bowl bags because we were heading to South Beach for our fashion show at the W Hotel.
We traveled on our charter bus, then arrived at a yacht club. We boarded the beautiful Argo yacht, and cruised our way to South Beach. It was so much fun. We got to unwind, eat, take pictures, have a couple dance battles with the mascots and just enjoy the moment.
We arrived at the W Hotel around 4 p.m. We did a full run through of the fashion show. Then put our heels on to practice walking down the actual runway, which by the way, was CLEAR and suspended above the pool outside. Walking down the runway was already a new challenge for the majority of us, and now on top of that, the fact that it is clear, took it to another level. Not only do we walk the runway in our team-identified swimwear, but we also had to dance on this platform. However, we are troopers, so we accepted the challenge with a smile.
We then had dinner, got ready, I did a couple of media interviews and then it was show time! We were so excited and nervous. It was awesome, I'm so proud of all of us. It was such a rush being out there, and it went by so quick. As soon as we were done, we wanted to do it again!
After the fashion show, we all quickly changed into our black cocktail dresses and team-identified sashes for the reception. We greeted all the guests who attended the event, posed for pictures, signed our team photo cards, and were interviewed by the media.
Around 12:30 a.m. we departed. I got back to our hotel and ate pizza in the lobby with my teammates. I went to bed around 2 a.m.
---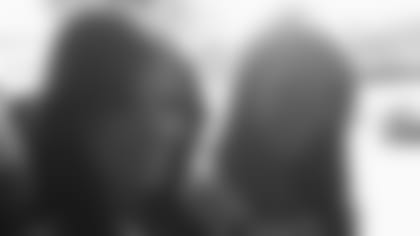 Up at 6:00 a.m., then to the ball room for breakfast at 8:30.
From 9:00 a.m. - 1:00 p.m. we had rehearsal. During the rehearsal we were put into our lines for game day: AFC1, AFC2, NFC1, and NFC2.
The lines selected captains, and AFC1 selected me to be their captain. I was so honored because we are all experienced captains on our respective teams.
After we chose the Pro Bowl captains we got together with our lines to do some appearances.
Our first stop was the Children's Hospital. A couple of the Pro Bowl mascots came too. We went through the hospital spreading cheer by signing autographs, and taking photos with the children.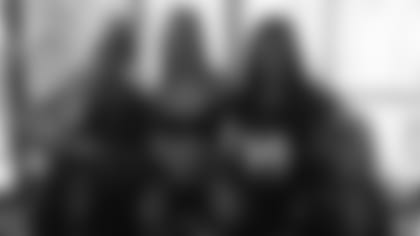 We entered a special unit of the hospital where there was a young girl who just arrived from Haiti. This was a little emotional, because of the recent devastation that took place in her country. She was so happy, and grateful, you would have never guessed a tradegy occured in her life and affected her and her loved ones. I was so moved by her strength. It inspired and humbled me to have had the moment we shared in that hospital.
After our hospital visit, we had two appearences at local elementary schools. We performed for the first time as a line and we nailed it! The mascots are great addition to our appearences because they are so great with the kids.
After a long day of rehearsal and appearences, we got to enjoy each other's company at the Pro Bowl Players Reception. We had dinner around a bonfire and just relaxed for a bit. Not too long, because we had a late rehearsal that evening for the fashion show. We learned our walks, our marks, and our dances for the runway. It was so much fun. Then we were beat, went back to the hotel, and packed our bags to prep for the next day.
---
Tuesday, January 26
7:28 p.m.
We all met at the point ball room of our hotel, and immediately following we had rehearsal. It was exciting to see all the girls in their team practice attire. Then we had an hour to freshen up before our offical Pro Bowl team photo shoot.
We loaded up the tour buses and headed to the Mandarin Oriental Hotel. There we had a quick lunch and then our photo shoot. It was beautiful, our shoot was on the beach, and we could not have asked for better weather. After the photo shoot, we had a grand tour of some local hot spots, then we went shopping at D-A-S-H Boutique, the famous Clevelander Hotel, and Mangos, where the locals salsa dance on the tables.
To end our long eventful day we had an amazing cuban meal at Larios On the Beach which is owned by renowned recording artist Gloria Estefan. Exciting day! Check in tomorrow for more updates. Cheers!
---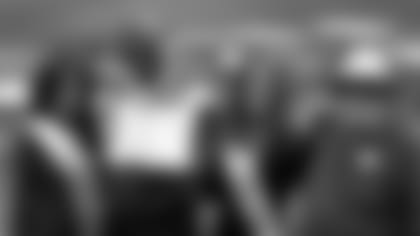 Monday, January 25
10:42 p.m.*
I could barely sleep last night [Sunday], I felt like a kid on Christmas waiting for morning to come so you can open your presents. I was up before the alarm clock went off at 5:00 a.m. All packed and ready to go, I headed to the SF Airport for my departure.
I met with the 49ers cheerleader, Amy. I had met Amy prior to this at a promotional event in San Francisco for the launch of the Just Dance video game. Around 1:30 we arrived at the Atlanta airport. There was a time change, so it was actually 4:30. We had about an hour and a half layover, so we just grabbed some lunch and got more acquainted with each other. With butterflies in our stomachs we boarded our flight to our final destination - Ft. Lauderdale, Fla.
We arrived and were greated by a Pro Bowl staff representive, and were shuttled to our hotel. Then we went to the ball room to meet all the other Pro Bowl cheerleaders. We all clicked instantly. Amazing energy! We got detailed itinerary for the exciting week, and were giving a Pro Bowl bag filled with goodies. It had a sweat suit, t-shirts, and bikinis! Yes, bikinis! We are doing a fashion show, down the catwalk. Stay tuned. I better get some sleep, long day ahead tomorrow.