The 2011 Raiderettes.Photo by Tony Gonzales.

On April 17th 2011, the Raiderette auditions progressed to the final round at the Hilton – Oakland Airport. The remarkable cast of candidates that made it through the preliminaries all sought to put forth an eloquent interview and stellar dance performance. They learned and diligently practiced the required routine during the week leading up to the final audition.


Jennifer impresses the judges during her interview.
Photo by Tony Gonzales.
"Once I learned the routine, I absolutely gave it my all every day to make sure I had it down perfectly," responded Christine of San Jose, Calif.
As with last week, the hopefuls were assigned to separate groups for interviews in front of a panel of judges. However, unlike last week, these interviews were more comprehensive. The judges asked them an array of questions in addition to the customary brief autobiographical sketch. The finalists reiterated the importance of being themselves and speaking clearly and confidently.
"All you can do is present your best self and speak with the utmost confidence," stated Jessica.
There was an increased media presence during this round of the auditions. The fact that returning Raiderettes were competing for a spot on the roster along with so many other capable contenders made for a significant and newsworthy event.
Throughout the day, the young women exhaustively practiced their routine. They did so individually, in pairs and in larger groups. Some listened to their portable media players in order to stay focused while not actually executing the dance. Others could be seen even doing pushups, sit-ups, and a variety of other stretches and exercises.
First time finalist Chanel prepared by stretching and listening to music. "Yes, I've put in a lot of practice, but sometimes getting away from the actual routine and letting myself fall into my music really helps," said the Danville, Calif. native.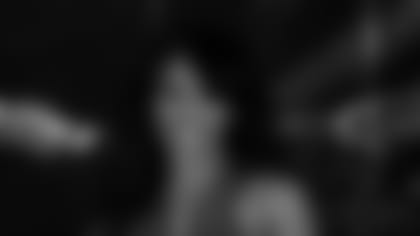 Voz shows her confidence during the interview.
Photo by Tony Gonzales.
Returning veterans and other first-time finalists each carried a unique perspective on the process.
Natalie, a three-year tenured Raiderette, said "past experience absolutely gives you some comfort in these really demanding auditions. Every year can be different, but I don't expect to be really surprised by anything."
Offering a different outlook was Nicole. "I am just truly happy to be in this position. As a first timer, I just want to give it my best and see how it all unfolds," said the Bay Area-native.
Once again though, the undeniable commonality in the experience of veterans and newcomers was the waiting game.
One-time Raiderette Shanika agreed, "It always seems to come down to performing to the best of your ability and then patiently waiting out the process [of being selected or not]."
Some candidates had secured hotel rooms to relax and pass the time until the judges made their decisions.
"Having a room here was so nice because I was able to take a nap after my dance and get away from things for awhile," Danielle from New York explained.
Former Raiderettes, Meena, Nicole and Serrita graciously assisted during the auditions for the second week in a row. Raiderette director Jeanette Thompson and choreographers Shawna Zimmerman and Laura Jollay again played vital roles in orchestrating the day's events. They also provided a warm and helpful presence that eased the minds of the competing hopefuls.
"We so appreciate them being here and everything they do for us. They are very good to us," declared first-year candidate Staci of Rocklin, Calif.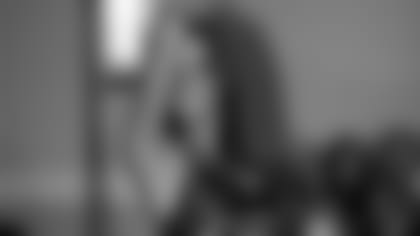 Elizabeth gives the peformance everything she has during the dance portion of the audition. Photo by Tony Gonzales.
Once each group finished their dance routines, a dual sense of relief and pride, with perhaps a bit of uneasiness filled the air. Many felt so close to the attainment of a lifelong dream. "What can I say, it would absolutely be a dream come true if I made it on to the squad. Let's hope the judges believe in me and make that happen," Danielle said.
After much anticipation, the fateful moment finally arrived for the hopefuls. Regardless of the outcome, the majority of women took pictures together as a genuine appreciation of the bond of sisterhood.
"I was so nervous and excited waiting to hear the results…this is just amazing," Heather of San Jose happily exclaimed.
Thompson wholeheartedly congratulated everyone on their courageous performances.
"All of you were truly outstanding. I am so proud of you. You all expressed yourself very well…held your composure, held your own," Thompson proclaimed.
With the announcement of the 2011 Raiderettes, the auditions were in the books. The new squad posed for an official group photograph and, shortly afterward, former Raiderettes offered words of wisdom and excitement.
"Take it all in ladies, love your sisters," said Serrita.
"This is about to be one of the best, most exciting years ever," Thompson added.
The newest members of Football's Fabulous Females couldn't agree more.