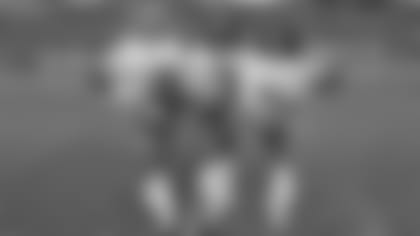 During halftime of the Raiders Week 14 match-up with the San Francisco 49ers, Raiderette Director Jeanette Thompson and the choreographers presented their 2014 End of Season Awards.
The first award on the docket was Rookie of the Year, recognizing the first-year Raiderette that has the most exemplary rookie campaign according to her peers.
The award was given to Noelle was caught off guard hearing her name announced as the winner.
"I was so surprised," said Noelle, whose mother was also a Raiderette. "I don't know, I'm kind of quiet, so I didn't really see that coming at all. I didn't think that people would remember me or vote for me or anything like that."
During her first season as one of Football's Fabulous Females, Noelle saw growth in herself both on and off the field.
"I definitely saw that I improved as a dancer and was even challenged as a person just to be a role model in the community," she said. "I definitely saw growth within myself throughout the season."
The next award was Dancer of the Year, which Thompson and choreographers Laura Guillory and Shawna Zimmerman selected.
Rookie Raiderette Jacqulyn was named the 2014 recipient, and Thompson noted that Jacqulyn brought a certain energy to her performances that remained consistent all season.
"Even from auditions she was a big standout in the dance category," Thompson said. "She didn't hold back. In the area of explosiveness and energy she's not one who needed to pump up her level of energy. She did that from literally day one."
The final award presented during the halftime ceremony was the Raiderette of the Year, an award voted on by the members of the team.
Third-year Raiderette Michelle was named the award winner, and was overcome with emotion when she heard her name called.
"It was so beyond incredible and very special and I was so overwhelmed with so many emotions," Michelle said. "I started crying but then I was just in complete shock and I honestly felt like I was in a dream."
Michelle now has the opportunity to travel to Glendale, Ariz., and cheer during the 2015 Pro Bowl, an experience she is greatly looking forward to.
"I am so excited," she said. "It's going to be an experience of a lifetime. I'm really, really excited and looking forward to it."
While Michelle's trip to Arizona is a reward for her season of hard work, she knows that she has a job to do while there as a representative of the organization.
"It's really unbelievable and I'm just so thankful," she said. "That's a huge honor and a huge responsibility that I want to do my absolute best. I'm really excited to go out and represent and show everybody what the Raiders and Raiderettes are about."