| | |
| --- | --- |
| | |
| Raiderette Anna with last year's Raiderette Pro Bowl cheerleader Natalie. | |
| | |
Game day!!! Pro Bowl is like no other game I have ever experienced! This game truly brings out the Hawaiian spirit....and like all the colors of Hawaii the stands are filled with all the different colors of the NFL. This game is for the fans! It's a much more relaxed game where I could take a moment out of dancing on the sideline to pose for a picture with a fan or sign a fan's Raiders cap.
My Raiderette sisters came to the game and it was cool to see them cheering for me....although I wanted to pull them down onto the field to start dancing with me.
After the game I ate a huge feast together with my team of Pro Bowl cheerleaders, directors,choreographers, and our new best friends....our security team! We laughed and cried as we shared and reminisced stories from the week in Hawaii. After dinner we were given our pro bowl rings!! It's been on my finger ever since.
I was lucky enough to stay a couple extra days in Hawaii to spend time with Raiderette sisters that came to Hawaii, shop and sight see. On the last day before my flight I was able to go to Pearl Harbor, something I had wanted to do all week, and pay my respects to all the men and women that had lost their lives there so many years ago.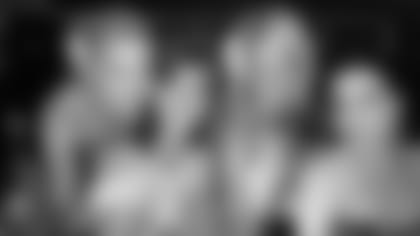 Raiderette Anna and three of the Pro Bowl cheerleaders showing off their new Pro Bowl rings.
I want to thank all my Raiderette sisters for voting for me as Raiderette of the Year and sending me to the Pro Bowl! It was the greatest experience of my life and the most wonderful gift you all could have given me.
Thanks Raider Nation for coming out to the Pro Bowl to support your team....I think we had the most fans of all the teams!!!
---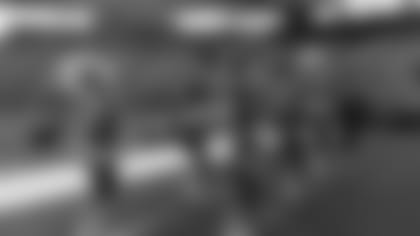 Ohana day!! A celebration of family - a huge pep rally for all of the community and fans to get together and meet the Pro Bowl players and cheerleaders! It's a free event designed for people that cannot afford to go to the game. We performed our dances while the players played a scrimmage game.
We then had our field practice on the stage with Hot Chelle Rae, the pregame entertainers! The whole show is finally coming together and I'm getting more and more excited for the game!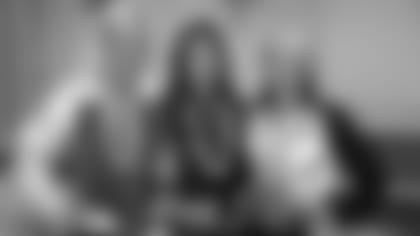 In the evening we went down to the Waikiki Strip for the giant block party! Over 70,000 people were there to enjoy the celebration!! Our AFC1 line performed on stages and we helped raise money in a silent auction for the Special Olympics!!
Many of my Raiderette sisters came to support me and were screaming and cheering me on while we preformed. I felt so loved :)
---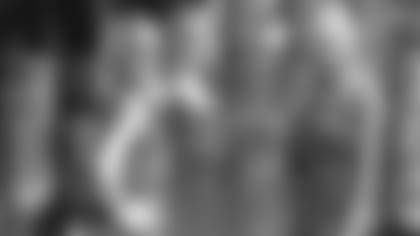 We got to relax on the beach. It was wonderful! The beaches in Hawaii are so beautiful and the ladies and I got to  hang out and chat and just be ourselves...I've bonded with these 26 women faster than anyone before in my life. Every day I learn more about them and how similar we all truly are to the core.
In the evening my line, AFC 1, performed at "Sunset on the Beach" on Queens Beach. It was great to interact with all the fans that had begun to arrive in Honolulu for the Pro Bowl and to get them excited about the game.
---
Today started bright and early at the beautiful Aloha stadium in Honolulu. We set our formations on the stage for the pre game show and began to put all our hard work and practice into motion. The show is going to be amazing! I hope all of you that can't make it out here to Hawaii watch the show on TV.
We then headed to Kaneohe military base elementary school for the Play 60 community Blitz. When we arrived the kids were interacting with the Pro Bowl players and running fun football drills. We preformed a couple of our sideline routines and cheered the kids on through their drills. I overheard one the kids say that this was "the best day of their life." It's these moments that touch your heart and make me realize why are truly here.
On our way back to the hotel we were surprised with a stop at the Pali look out. The view was absolutely gorgeous! It's much cooler up into the mountains and we could see lush green valleys and crystal blue water for miles...simply breathtaking.
For dinner we went to Dave and Busters. I hadn't been there in years and immediately turned into a child again. My friends Lauren (Chargers),  Laura (Panthers) and I played ski-ball and won over 4,000 tickets! We had a blast and got some pretty cool prizes too.
Time in Hawaii is flying by and the big weekend is right around the corner!
---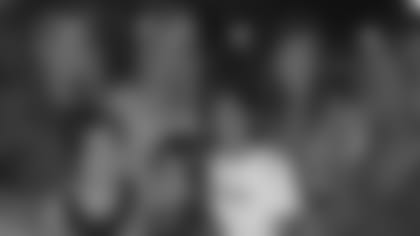 Wednesday, January 25, 2012
Day 3 in Oahu started early with a dance performance on the sunrise morning news. My fellow PBCheerleader Allie from the Arizona Cardinals did the weather forecast for the day and I spoke about staying fit in the new year.
We practiced in the afternoon and then went into town to be fitted for our coveted Pro Bowl rings at Maria's shop in Waikiki Town Center.
The evening ended with a beautiful luau in the north shore of the island.  We met kids, Liana, Chloe, and Kailah, who had enjoyed a Play 60 event at their school - which is one of my very favorite programs the NFL has created to keep kids excited and encouraged to stay active, healthy, fit and in sports.
Be sure to check back to see what's happening next at the 2012 pro bowl!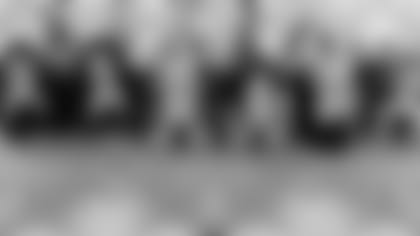 Tuesday, January 24, 2012
Day 2 in Hawaii was full of practice, practice and more practice. Preparing for a game in one week is lots of work but worth every bit of sweat.
We were put into our lines, I'm in AFC 1, which includes all of the girls from the AFC Western Division. It's been really great getting to know all the girls from our "rival" teams and dancing together with them as one.
This evening we had our group sunset photo shoot out by the pool. It was the first time we all got to see each other in our uniforms...everyone looked gorgeous. I'm excited to see how the picture turns out.
After a little more practice we had some time to goof around and chat in the hotel before resting up for another eventful day.
---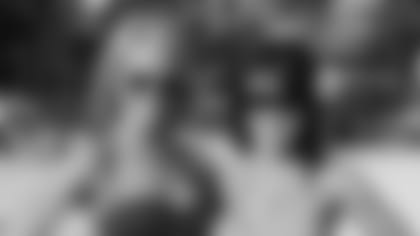 Today was a fun day of traveling to the island of Oahu and meeting other Pro Bowl cheerleaders. We all arrived at the Hilton Waikiki beach resort at different times during the day.
I was lucky enough to arrive in the afternoon and make it to the beach in time to soak up the sun with some of the other ladies. I even got to see one of my Raiderette sisters, Angel, today on the beach. She is here teaching youth clinics on different islands during the week.
As the sun went down and more girls arrived we met for dinner to have our first meal together in Hawaii.
I'm looking forward to a week filled with new memories!