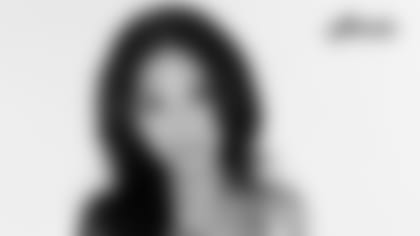 The Oakland Raiders congratulate Annie as the "Raiderette of the Week," sponsored by Bud Light. Annie is in her second season with Football's Fabulous Females. After a rookie season full of memories, Annie's favorite was the visit to the Children's Hospital & Research Center Oakland. She was able to spend time with the kids and share some of her positive energy with them.
Annie hopes to work with children in the future. She specifically wants to instill self-respect in young girls, help guide them or just be there for them as a friend. "Eventually I would like to build a foundation or charity to help build kids of the future with positive role models and a safe place kids can come to seek help, advice or even just an escape from wherever they need to escape," said Annie. The second-year Raiderette wants to inspire the younger generation to live in a positive light.
Annie's most memorable moment of the 2011 season so far was during the first two sold out games. While listening to the National Anthem, she had the opportunity to look around and take in all of the energy from the devoted fans in O.co Coliseum. "It made me truly thankful for being a part of such a dedicated team and family," said Annie. "Tears were definitely being fought back at that moment."
Annie is the shortest Raiderette on the team at 5' tall. When she is not a Raiderette, she likes to ride dirt bikes with her family and spend as much time with them as possible.