Brittany
Third-Year Veteran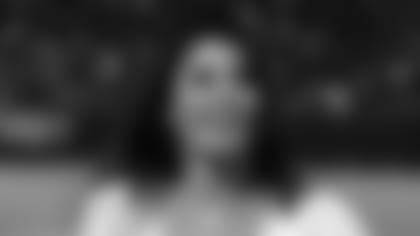 One of my nicknames is "Raptor" because of my dead-on imitation of a Velociraptor.
I'm the mom of a beagle/English bulldog named Studley, who is built (and sometimes acts) like a linebacker and is just as cute as his name suggests.
My uncle was a member of the '90s power pop band, Jellyfish.
Gone in 60 Seconds and Fast and the Furious sparked my love of fast cars. Unfortunately, my driving record is evidence of that love.
While volunteering in Tanzania with my mom, we agreed to get branded by a Maasai warrior to commemorate the experience. I was the only one to get branded since I volunteered to go first.
---
5 Things I love about a Raiders Game:
I love the top 40 sing-alongs with my 39 sisters in the locker room before the game.
I love when the stadium erupts as soon as the bell chimes in Hell's Bells blasts over the loud speaker. Goosebumps.
Of course I love cheering for the Raiders, but I especially love seeing my cheerleaders (family, friends and former Raiderettes) in the stands.
The Raiderettes brought Chanel, Bess and myself back together after attending the same high school and dance studio a few years apart.
I love having one of the best seats in the house.