Free agency is here and the Raiders have been welcoming many new faces while they build the roster for the 2023 season.
Follow along with all the moves with Raiders.com's Free Agent Tracker and get to know the Silver and Black's latest free agent acquisitions below.
Howard joins the Raiders having spent five seasons with the Buccaneers and one with the Houston Texans. In total, he has appeared in 74 career games with 60 starts, recording 129 receptions for 1,882 yards with 17 touchdowns.
He was a 2017 first-round pick by the Tampa Bay Buccaneers out of Alabama, but had national eyes on him since high school. According to Rivals.com, he was listed as the top tight end prospect in the Class of 2013.
Willis has played in 69 career games, totaling 10.5 sacks, 91 tackles, 15 tackles for loss, one pass defensed, three forced fumbles and three fumble recoveries. While in San Francisco the past two seasons, he played an important role on special teams, including blocking a punt in the fourth quarter of a January 2022 divisional round playoff game that led to a defensive touchdown and eventual win.
The defensive lineman finished his collegiate career at Kansas State ranked third in school history in career sacks (26.0).
The 25-year-old has appeared in 46 career games, posting 11 special teams tackles (six solo) with one fumble recovery.
While at Northern Colorado, Bobenmoyer played linebacker and edge rusher in addition to serving as the primary long snapper.
Garoppolo has a 40-17 record as a starting quarterback, along with a 4-2 postseason record in his nine NFL seasons. He has spent the last six years with the San Francisco 49ers and in his time there, etched his name into the record book, owning the highest career completion percentage in Niners history (67.6 percent), passing Steve Young's 65.8 percent.
As a senior at Eastern Illinois, he led the team to back-to-back conference championship and won the Walter Payton Award – given to the most outstanding offensive player in FCS football each year. Garoppolo was just the second player from Eastern Illinois to ever win the award (Tony Romo, 2002).
Facyson re-joins the Raiders after one season as a Colt. The cornerback spent the 2021 season in the Silver and Black, where he appeared in 12 games (nine starts), recording a career-high 55 tackles, 13 passes defensed and his sole career interception.
While at Virginia Tech, he double-majored in biology and sociology, and had plans to become a cardiologist in the future.
The wide receiver entering his eighth season spent last year with the Houston Texans, where he played in 15 games (four starts) with 257 yards and one touchdown on 20 receptions. He's also played for the Colts, Patriots, Seahawks and Jaguars.
Dorsett is known for speed, he ran a 4.33 at the Combine in 2015. In fact, while with the Seahawks in 2020, Head Coach Pete Carroll called him "the fastest guy we've ever had here."
Meyers was initially recruited by NC State to play quarterback. He switched to receiver after redshirting his freshman year.
He has been the Patriots' leading receiver for the past three seasons, and since 2019, has led the team with 235 receptions and 2,758 receiving yards.
Last season, the linebacker totaled a career-high 79 tackles and four tackles for loss. He originally signed with the Titans as an undrafted free agent in 2018 before spending his next four seasons with the Steelers.
Spillane is the grandson of former Heisman Trophy winner Johnny Lattner, who won the award in 1953 while at Notre Dame and played one season with the Steelers in 1954.
Epps played the most snaps of any Eagles player last season – 1,058 defensive snaps (98.7%), per ESPN Stats & Info. The 27-year-old totaled 94 tackles, four tackles for loss and six passes defensed during the 2022 regular season.
The safety was a walk-on at the University of Wyoming and in his senior season in 2018, was a finalist for the Burlsworth Trophy, which is awarded to the nation's best walk-on player. Epps was later drafted in the sixth round by the Minnesota Vikings.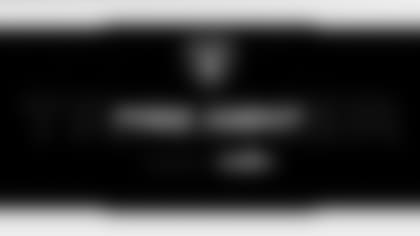 Free Agent Tracker
Complete coverage for monitoring all of the Raiders' free agent activity. Be sure to check back for official news and transactions.