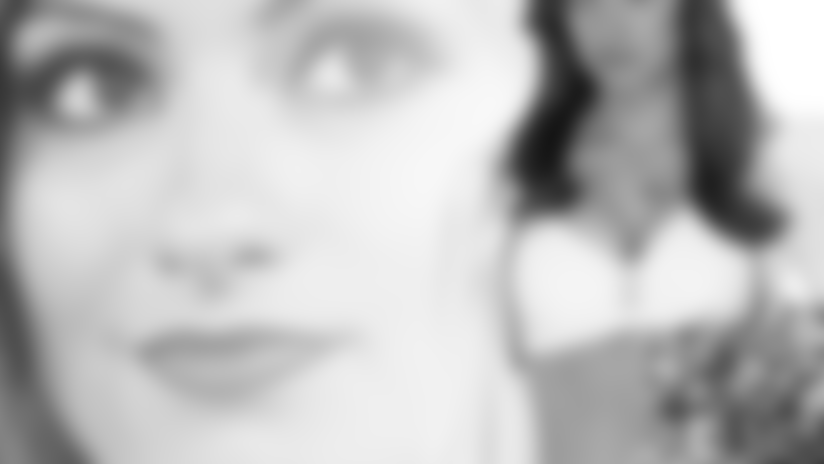 For Jaclyn, her responsibilities as a Raiderette don't end when the final whistle blows at O.co Coliseum on Sundays and she returns home.
"I carry being a Raiderette through my whole, entire life," said Jaclyn. "Every day when I'm at work, I think it's important to act like a Raiderette, to be poised and to hold myself to a high standard."
Jaclyn is entering her second year as one of Football's Fabulous Females, but her journey back to the sidelines on game day has been a little different than most. Her first season as Raiderette came in 2011, but after the season ended she decided to pursue another goal that was close to her heart- finishing her college degree. "My mom emigrated from Portugal and my dad came from Mexico," she said. "They really had that American dream come true. My brothers and I are the first to graduate from college out of our family which is really cool to see."
After taking two years to complete her degree in business, the USC grad landed a job at Oracle and moved back to the Bay Area where she auditioned to return as a Raiderette for the 2014 season.
Jaclyn was one of the 40 women selected as a 2014 Raiderette, and during her second season cheering on the Silver and Black she has relished her new role as a veteran, in particular, providing support for the rookies on the squad.
"It's nice going to the rookies and helping them out with things that I had questions with, things that I was so nervous about," she said. "I think everyone has been in that experience where you're uncomfortable and unsure of what to do. It's nice to have a friend that you can go to and ask for advice and know that you're not going to be judged and you're just going to get a straight answer."
Even after her years in Southern California, there is still nothing like game day for the second-year veteran, especially her first one back at O.co Coliseum.
"It was great," she said when talking about her first game back on the sidelines. "At some points I would just look around and be like, 'wow, I can't believe I'm here.' It's a surreal feeling that I can't even describe. I just love the feeling of game days, and it was just great being back out there."
But, cheering during the actual game is just one aspect of game day that Jaclyn constantly looks forward to. 
"Some of my favorite moments are in the locker room when we're getting ready for the game," she said laughing. "I'm very, very silly. I'll sing really terribly and make everyone laugh and we're all dancing really silly and eating a little bit of candy before the game and just messing around. Honestly, that's my favorite time."
Above all though, Jaclyn realizes and appreciates the platform she has been given as a Raiderette.
"Saying that I'm a Raiderette for this season means that other people can look up to me and say, 'wow, she's a well-rounded, beautiful, talented individual," she said. "That makes me extremely proud to say."